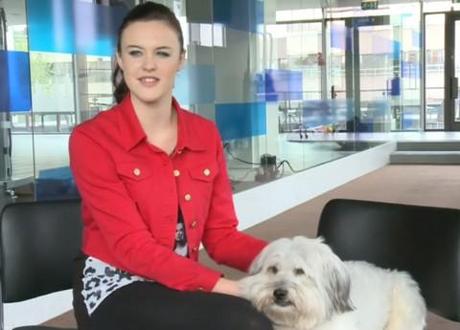 Britain's Got Talent winners Ashleigh and Pudsey
The Background
Hollywood beckons for Britain's Got Talent winners Ashleigh and Pudsey. According to The Sun, judge and show creator Simon Cowell plans to fly the dancing dog act to the US in his private jet: "First stop will be a Los Angeles pet beauty salon, where Pudsey will get a makeover alongside canine stars like Uggie from Oscar-winning film The Artist. Then he will meet top Tinseltown bosses for a film career."
There are also rumours that the duo's agent, Jonathan Shalit, has lined up a book deal and a dog food advert.
Seventeen-year-old Ashleigh told ITV Daybreak she had never expected to beat opera-singing teens and bookies' favourites Jonathan and Charlotte in the BGT final, and that she was "overwhelmed" by the public's support.
Read more about Ashleigh and Pudsey's BGT victory at The Periscope Post.
Pudsey's secret lover
Pudsey has already received the ultimate showbiz seal of approval: a tabloid exposé. "BRITAIN'S Got Talent winner Pudsey is hiding a gay secret and has a boyfriend," reported Peter Dyke for The Daily Star, accusing the pooch of having abandoned the mother of his six puppies for a male cocker spaniel.
Pudsey: A Trailblazer?
"I think this may herald a bit of a breakthrough," wrote Michele Hanson in The Guardian. Hanson hoped that Pudsey's win would help change dogs' image in the UK after years of bad press: "I'm hoping this all signifies a weeny bit of a turn around for dog world, that after the decades of increasing fear and loathing, of hopeless owners, cruelty, maddened animals, fights, biting, inbred mutants, bursting rescue centres and deaths, we're on the way to more dog appreciation, dancing, love and sunshine instead."
Ashleigh must avoid exploitation
Dogs have a short lifespan, wrote Ellen Arnison at STV, so Cowell et al will want to act quickly to make the most of the act – which may me to the detriment of Pudsey's teenage owner. "If Ashleigh doesn't take care she'll be whisked along to film sets, promotional deals, interviews, shows and appearances before she knows what's what. Then, as soon as it started it'll be all over," Arnison wrote.
Watch Ashleigh talking about new-found fame and life with Pudsey below.