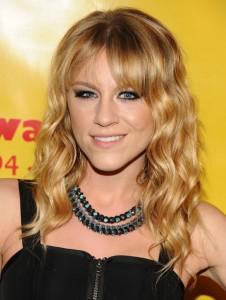 True Blood's Brit Morgan may have met the true death in True Blood, but she is soon to star in a new film called "The Frozen." ARC Entertainment has just acquired the North American rights to The Frozen, a psychological thriller that marks the directing debut of former development exec Andrew Hyatt.
Brit Morgan stars with Noah Segan (Looper) and Seth David Mitchell. Mike (Mitchell) and Emma (Morgan) take an ill-advised winter camping trip and get stranded in the woods after a snowmobile accident. When he disappears, she is left on her own not only to battle the elements, but elude a mysterious man (Segan) who has been tracking her through the forest. ARC Entertainment's CEO Trevor Drinkwater confirmed the deal.
"We're excited to acquire a film that takes the audience for a ride as the protagonists fight for their survival," says Drinkwater. "Andrew Hyatt has a unique point of view when it comes to storytelling and it is showcased in The Frozen. What an amazing achievement in his first film as a director!" Hyatt wrote the script and Fox Hill Productions' Samantha Lusk produced. International rights on the film are represented by Roman Kopelevich's Red Sea Media.
source: deadline.com