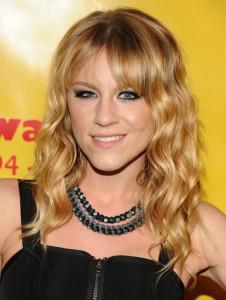 As we all know, Brit Morgan will no longer be on True Blood since her character of Debbie Pelt was killed in the finale of Season 4.  We enjoyed seeing Brit do such a good job of playing Debbie and she will be missed. Gians Sobel of Inside True Blood's Blog talked to Brit about it and her time playing Debbie in the short interview below:
Gianna: Do you miss us?! We miss you! What do you miss the most about working on True Blood?
Brit: I miss you SO much!!! I really miss everything but what I miss most is the people. Being surrounded by such wonderful, talented people and feeling like a part of the family. And of course, I miss playing Debbie and looking forward to what new, exciting things I was going to get to do each episode!
Gianna: She was such a wild character. What went into creating her?
Brit: To prepare myself for Debbie, I researched a lot about addiction because it's such a huge part of her life. I attended NA meetings every month and talked to different people about recovery and battling addiction. Through both seasons I kept a journal for her that I would write in to get into character and I made many CD's of music that I thought she would like or that made me feel close to her. I rehearsed for every episode with my acting coach and watched some great documentaries on wolves!
Gianna: You had some pretty intense moments on the show – including your final one. What was the most trying scene you had to shoot?
Brit: I would say in the 4th season, there's a scene were Alcide and Debbie are having sex and midway through she confronts him about his feelings for Sookie. It was challenging because it was a short scene with so much going on emotionally and at the same time I'd never done a sex scene before, so there were many things to juggle. It ended up going smoothly but I remember being nervous for about two weeks before I shot it.
Gianna: Who made you laugh the most on set?
Brit: There's a lot of funny people, but I'm gonna go with Anna.
Gianna: Characters die on True Blood, but that doesn't mean we never see them again. Any chance Debbie might rear her angry head?
Brit: I hope so!! Debbie might come back with vengeance, and if she does it won't be pretty.
Gianna: And finally, the most important question: Team Eric or Team Bill?
Brit: Team Bill.
source: inside-true-blood-blog.com