This past Saturday, the day I was to bring 28 of my abstract paintings on canvas to a gallery an hour away, there was a 60 percent chance of snow predicted.  My daughter said she pictured us carrying paintings down the block in the snow to the gallery, but we got lucky.  It was a clear day with mild (for upstate NY) temperatures.
We used two vehicles: my Honda Element and my daughter's van.  First we took the back seats out of the Element, which then left room for the largest-sized paintings, 60" x 48" and 48" x 48".  After we filled the Element, we loaded the rest into the van after putting the seats down flat.  With cardboard in between paintings, everything looked secure and we headed off to the Orazio Salati Gallery in Binghamton. 
I remember the good old days when Adrian and I would tie large paintings onto the rack on top of the car and head off down the highway!  I think most artists who work in large sizes have some tales to tell about their adventures getting paintings to exhibits.
We'd also rented U-haul cargo vans in the past to carry my 5 ft. by 5 ft. paintings, but I don't feel comfortable driving one of those.  I can remember moving our household six hundred miles in a U-haul truck years ago and wondering whether we'd make it with the bald tires and loose steering. 
We were fortunate on Saturday to have a beautiful day, be able to park right in front of the Gallery, and unload easily.  It was especially easy for me since I stayed with the vehicles and handed the paintings one at a time to the gallery director, my daughter, and two grandkids to carry up the flight of stairs to the gallery.
Here are two of the paintings that will be in the exhibit starting this Friday, February third.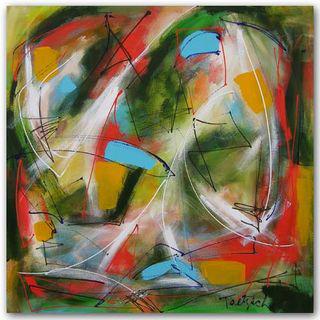 Day and Night Two, 30" x 30" acrylic on canvas.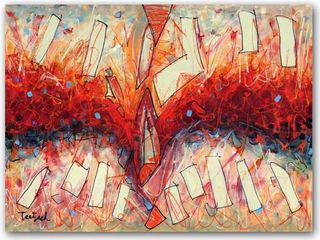 Abstract Art Twenty, 40" x 30" acrylic on canvas.