Hi Huneybees,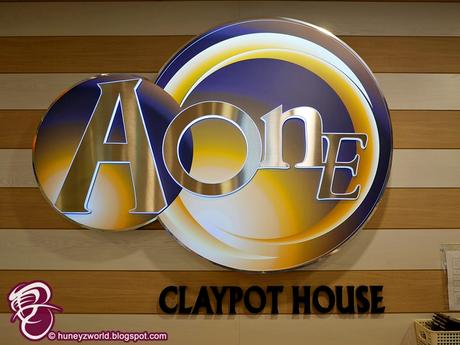 After a month of vegetarian diet,, I have taken a lighter and healthier approach when it comes to food. That is also why I fell in love with the dishes served in AOne Claypot House when I was invited for a food tasting session there.
Whilst watching a healthy, balanced menu, the flavor of the dishes are not compromised. It brings me back to those happy days (when studying for exams was all I stressed about), whole family sitting around the dining table, enjoying my mum's cooking.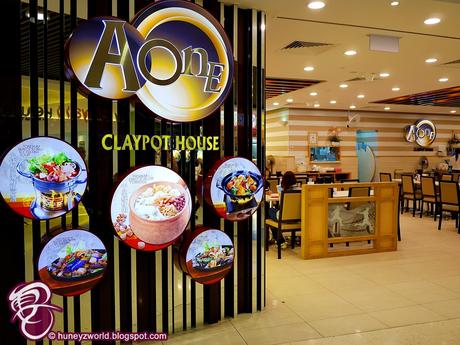 All because at AOne, they believe in creating a casual, comfortable atmosphere for everyone to share and enjoy family-style comfort food, encompassing all the local flavours of Singapore, that we all grew up loving and eating.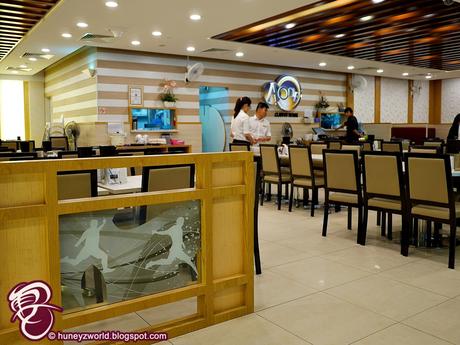 Dishes prepared in claypot is not easy to find and it is definitely a test of the chef's skills, but they have chose to use the claypot as they believe that food should be consume at the right temperature.
Together with fresh ingredients, the claypot allows good airflow, good heat insulation, thus locking all the moisture and nutrients in while cooking, resulting in tender and juicy meats whilst using less oil.
'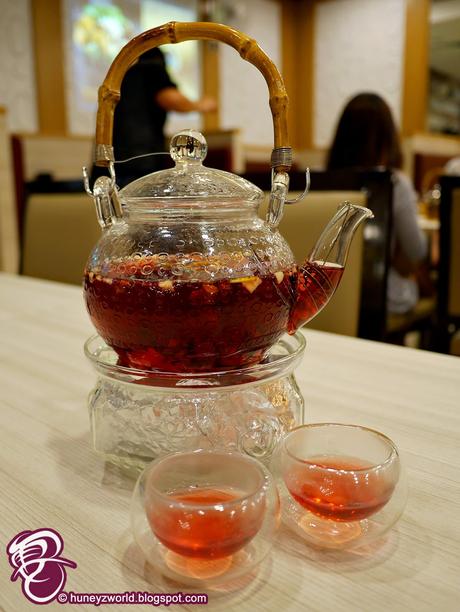 Before I get started introducing you to the mouth watering dishes, you definitely have to order yourself a pot of their caffeine free and no added sugar - Assorted Fruit and Flower Tea. Not only is it infused with floral fragrance, you can also find
 

Chinese Hawthorn 

山楂 inside.
I love having Chinese Hawthorn tea as it has a slight sourish touch, that is appetizing and very good for digestion as well. It can lower blood pressure and cholesterol, and (LADIES!!!) it is also beneficial for those who want to get that hourglass figure. Hehehe...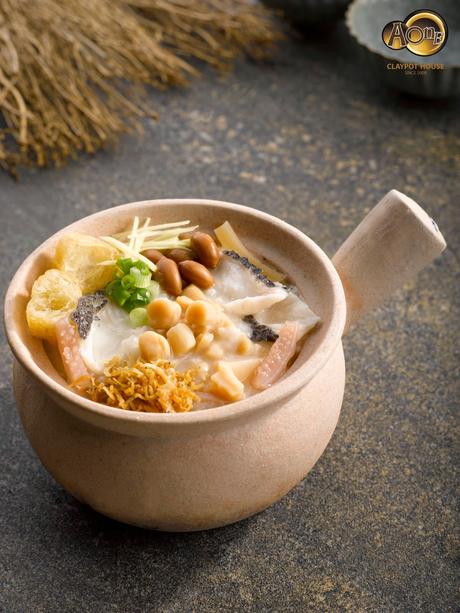 Now that I have whetted your appetite, it's time to get to the main dishes! Amongst all those that we have tried that day, I love the Premium Dried Scallop Porridge (干贝艇仔粥), that comes served full of fresh and sweet scallops, fish and cuttlefish infused into the porridge cooked with pearl white rice.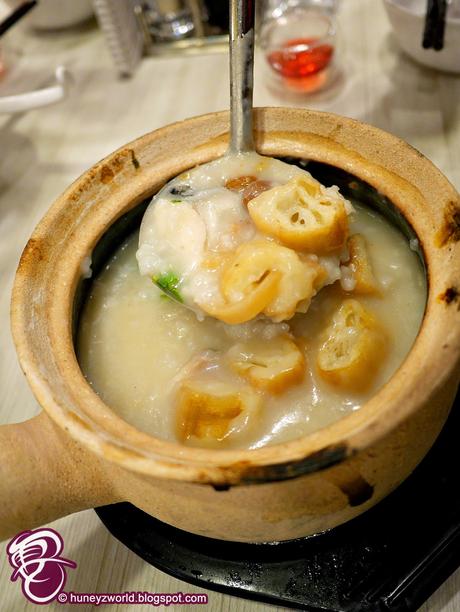 This is the type of porridge that is cooked to a gooey thick texture, and not matter how long you stir or leave it cold, it does not turn watery. With the claypot, my porridge remained warm 
throughout
 the whole session, letting us enjoy this porridge slowly with every bite, taking in the "sea". :)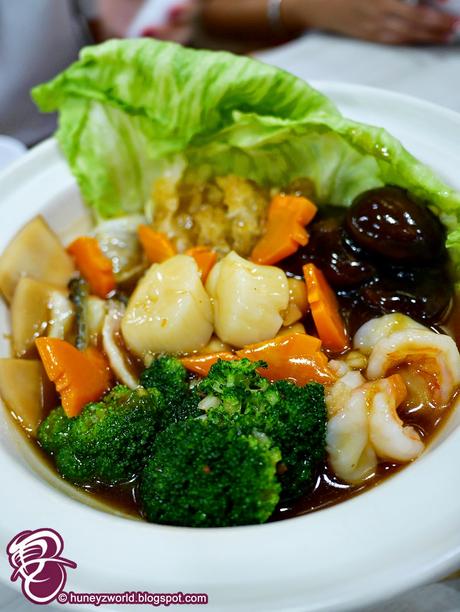 And for scallop lovers like me, be sure to try the 
Premium Claypot 
(一品锅) and 
Steamed 
Scallop 
with 
Minced 
Garlic 
& 
Vermicelli (
蒜蓉粉丝蒸带子). 
The Premium Claypot with its prestigious name, encompasses all sorts of seafood - 
Abalone, 
Mushroom, 
Scallop, 
Sliced 
Fish, 
Prawn and 
Fish 
Maw. I can simply have this and a bowl of plain white rice to go with!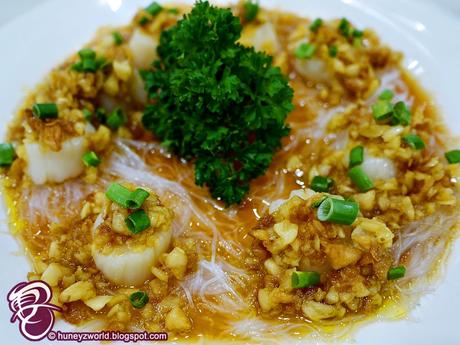 For a light meal, you can have the 
Steamed 
Scallop 
with 
Minced 
Garlic 
& 
Vermicelli
. The seasoning is just right and with the right pairing of the garlic and seafood, the vermicelli is definitely my go to comfort food now. I always have this when I go to AOne. :X
Of course, if you have more people joining you, you can try out these other delicious dishes as well.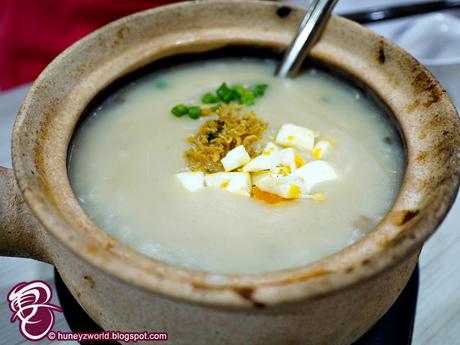 Dried Scallop Porridge with Minced Meat & Assorted Eggs (Century Egg, Salted Egg, Egg)干贝三色混蛋肉碎粥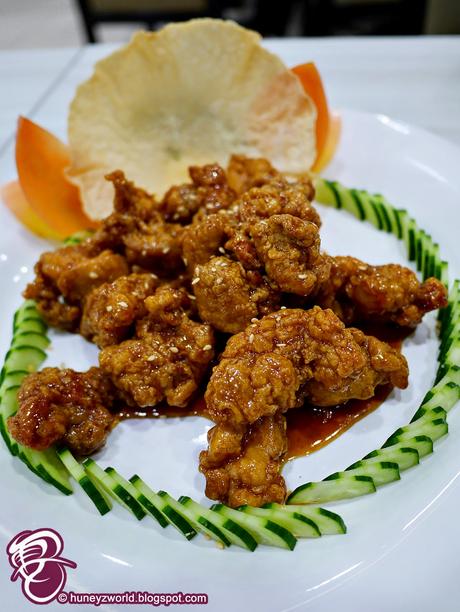 Honey Chicken
冰花蜜汁鸡丁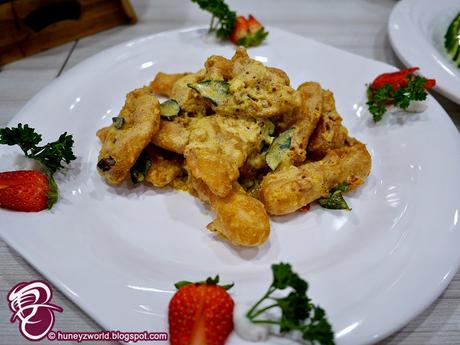 Deep fried pumpkin and lotus root with creamy salted egg sauce(咸蛋奶油金瓜莲藕)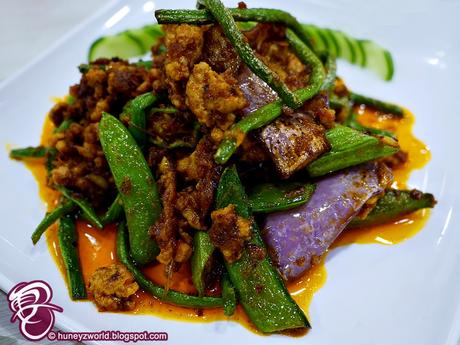 Assorted Vegetables in Sambal Sauce四大天王
Ever since this food tasting session, I am always dropping by for more. The food is great and the ambience, perfect for family gatherings and chit chats over food. I would recommend this for a family of all generations to come enjoy a meal ~~~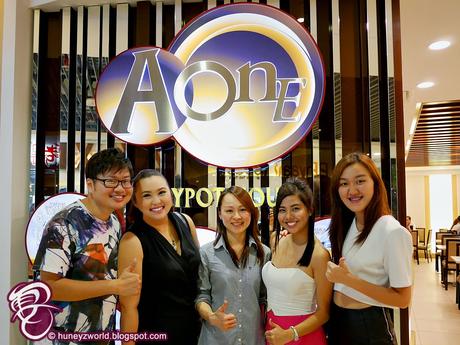 AOne Claypot House
Location : (9 outlets)
Causeway Point #03-31 S738099

Chinatown Point #B1-47 S059413

Junction 8 #01-49 S579837

Jurong Point (JP1) #03-09 S648886

NEX #B1-73 S556083

Suntec City Mall #B1-135 S038983

Tampines 1 #05-04 S529536

The Seletar Mall #02-14/15/16 S797653

The Sports Hub #01-33/34 S397628
Website: http://www.aoneclaypot.comFacebook: http://www.facebook.com/a1porridge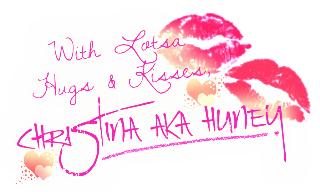 Don't forget to stay tuned to my blog / like my blog's Facebook page / follow me @huney_84 on Twitter & Instagram  for the latest updates!
http://www.huneyzworld.blogspot.com http://www.colourhuney.blogspot.com