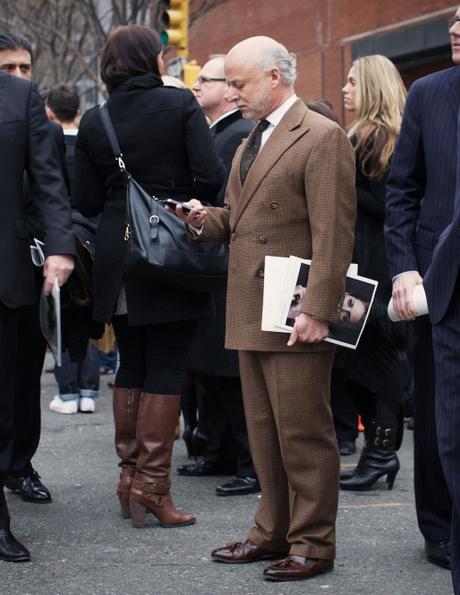 What a difference thirty years makes. In 1986, The New York Times had an article about the rigid dress codes in high-end service industries (e.g. banking, accounting, and advertising). "If you're in a service business, the client wants to feel you can be trusted," said one executive. "People who wear gold chains won't give their money to people who wear gold chains," said another.  
Now those norms are changing. In today's New York Times, Vanessa Friedman writes about how bankers and financiers are starting to shed their tailored clothes for more causal wear. So, instead of conservative, dark suits, hedge fund managers are wearing gray t-shirts, jeans, and hoodies (in a kind of stealth wealth, Loro Piana and Cucinelli sort of way). And last winter, Crowe Horwath – one of the largest public accounting firms – announced a new dress code that encouraged employees to show up in jeans and button-ups (although suits are still required for meetings). 
There's not much to miss about that old 1980s banker uniform – whether it's the contrast collars or exaggerated power suit – although I do like tassel loafers. Part of the problem, however, is that tassel loafers have always been controversial. Menswear writers often like to cite that time in 1992 when George Bush accused Bill Clinton of being supported by "every lawyer that ever wore a tasseled loafer." The idea, of course, was that they were worn by people who can't be trusted. 
The style briefly came back about ten years ago, but in the worst possible way. Men's style enthusiasts liked to pair them with critter pants and skin-tight suits, which didn't help the idea that tassel loafers are for jerks.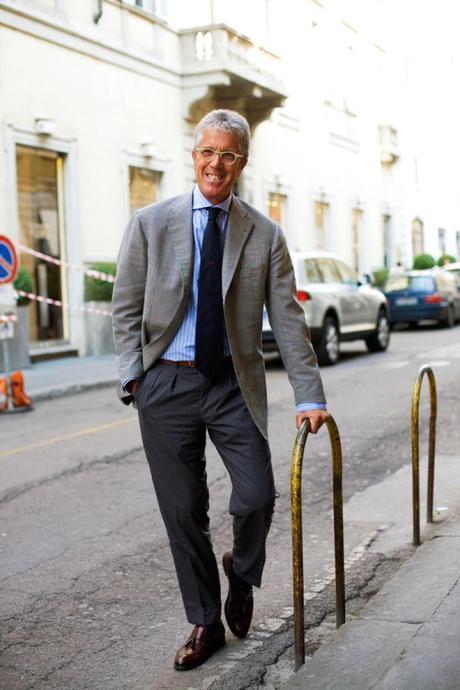 Still, I think they can be worn tastefully. Black tassels can be used with suits, although I prefer brown suede and #8 shell cordovan with sport coats. Being a leisure shoe, they go well with the kind of tailored clothes you'd want to wear when it's warm. The key is to make sure your jackets don't fit too tight, as otherwise the tassels can look a bit precious. I also like them with more conservative clothes – a navy sport coat with tan trousers and a striped blue shirt – as the shoes already make a statement. 
Some notable models: Alden is great, if only because of provenance. They are, after all, the inventors of the style, having introduced it in 1952 at the behest of Paul Lukas (who wanted something like the shoes he brought back from Europe). The company also makes a similar model for Brooks Brothers, which has a skin-stitched heel counter for a more causal look. 
My favorites are the ones with looser, lower hanging tassels, which look jauntier than Alden's straight-lace model. See Crockett & Jones' Cavandish or Ralph Lauren's Marlow. Allen Edmonds also recently introduced their new Acheson loafer, which looks really good. I've been wanting the dark brown version they produce for Ralph Lauren. 
Lastly, Edward Green has a nice braided loafer called the Belgravia, while Barbanera and Carmina produce similar models at more affordable price points (see The Armoury and Gentlemen's Footwear for options). There's also Meermin, who offers the best bang-for-your-buck at $175. 
So, tassel loafers – shoes you can no longer bank in, but hopefully still bank on.