Published as:  By a Thread Kansas City–based artist Anne Lindberg uses architecture as a framework for drawing in space. Slideshow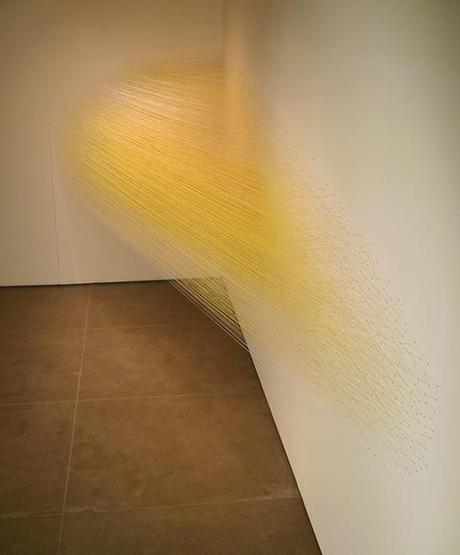 In 2011, artist Anne Lindberg installed her piece Canto Yellow as part of the "Licoes da Linha" exhibition at SESC Bom Retiro in São Paulo, Brazil.
Anne Lindberg had been working in monochromatic, two-dimensional graphite drawings for several years when she made a jump into color. In 2009, Lindberg—who holds an MFA from Cranbrook Academy of Art and resides in Kansas City, Missouri—spent the summer at Art Omi International Artists Residency in upstate New York. "I was in this beautiful old barn that had corrugated, milky plastic inserts in the ceiling that created this cool blue light in the space," she says. It inspired her to "hightail it" to a hardware store to buy scores of yellow thread, which she mounted in a rough version of the color-field installations she's since created in museums and galleries around the world. Each ephemeral installation—which she creates onsite with Egyptian cotton thread and a staple gun—starts as a scale model. "The work derives from an architectural space," Lindberg says, but has "a quality of painting in that each line is within a family of colors, and each line of color responds to how it builds in time." A solo exhibition at Haw Contemporary in Kansas City is Lindberg's last local outing before she moves to New York State at the end of 2014.