Fortune tellers, fish & chips, candy floss, hot fresh donuts, Brighton rock and a fun fair at the bottom; what's not to like about Brighton Pier? I stayed at the Royal Albion hotel this weekend overlooking Brighton pier and the burnt skeleton of the old pier. The Royal Albion is a tired old hotel which only adds to the wonderful kitsch and camp ambiance of the sea front of Brighton. Visiting towns around the world during their off-peak seasons can be an invaluable experience, and not just for the shorter queues to the popular local attractions!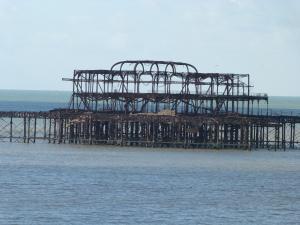 Burnt skeleton of the old Brighton pier
Sea bathing for pleasure and for the health benefits has been fashionable in the fishing town of Brighthelmstone (later called Brighton) since the 1730′s. Dr Richard Russell, a physician in Lewes promoted the idea that many diseases could be cured by a simple 'dip' in the sea. Dr Russell built a house on the sea front where the Royal Albion hotel now stands.
To ensure appropriate modesty bathers were taken down to the sea in carts called 'bathing machines' where dippers, usually strong sea-faring folk, would hold the terrified weak bather to prevent the surf from carrying them out to sea. Martha Gunn, a fisherman's wife, became the most famous dipper as she often assisted the Prince of Wales to bathe in the sea. Martha's work was awarded with certain privileges including free access to the kitchens at the Royal Pavilion, the Royal pleasure palace, no doubt leading to her excessive weight gain through her life.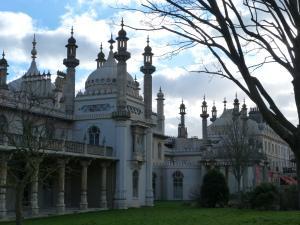 Royal Pavilion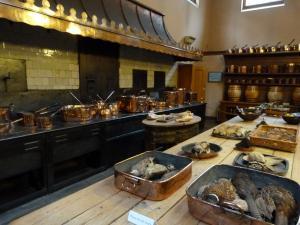 Pavilion pleasure palace kitchens