I know that some of you still have snow, but here in Wales I haven't even seen a flake and I haven't had to go running in the rain for over a month - so I'm declaring that it's officially Spring! 
For me, Spring mostly means having a house filled with daffodils, spring cleaning and finally getting to stash away all my grubby winter boots. It also means that I can officially start lusting over my summery wardrobe additions and some fresh home decor. 
Something bright, something bold, something floral.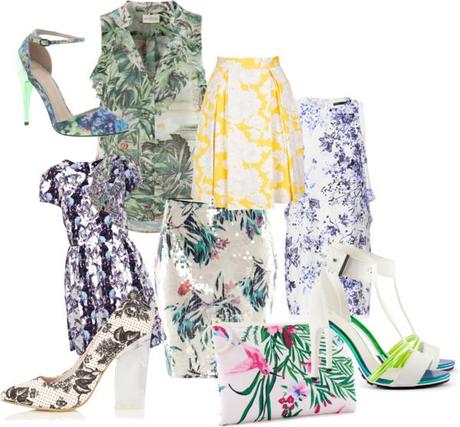 What's not to love about large floral prints. So long as you avoid the ones that will make you look like a curtain, it's slimming, eye-catching and florals will generally stand the test of time and still be pretty wearable year after year. 
I only recently realised how few shoes I actually own (believe it or not) so I definitely want these bright and floral beauties from ASOS, the feminine pink ones from Topshop and the bright spring sandals from H&M.
I really like H&M's new conscious collection, especially this jungle print blouse, skirt and make up bag. 
Last but not least are my three favourites. The yellow print skirt from Topshop is just so classy. I could imagine Blair of Atlantic-Pacific wearing one just like it, which sells it to me entirely! The blue and white Zara dress reminds me of the china willow pattern and the Topshop Iris print dress is just such a pretty lavender colour. 

Anything take your fancy?