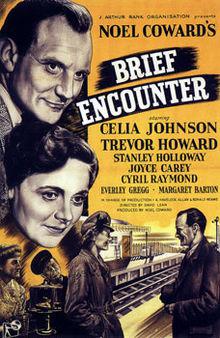 Laura Jesson is what appears to be a happily married woman with two children, but everything is not as it seems when we are shown a brief affair in flashback form with Dr Alec Harvey.
Now this film sounded extremely emotional and I was not let down in that respect at all. It really was just incredibly moving and emotional. But I also cannot help but think how controversal it must have been at the time. Two all ready married characters having an affair with each other, later I read that it was banned in some places for showing adultery in a positive and good light.
But I think it just shows that no matter how happy you are in a relationship or marriage someone else can still come along and completely change your life. That doesn't really give me much extra incentive to get married thinking that could happen. This film really took on a difficult subject and showed how much it can affect the people involved.
I found myself wanting them to be together even though the beginning showed that this was never going to be the case. With the few weeks of meetings being shown in flashback form, seeing each other just once a week for a few hours and going to the cinema together. Having tea, it all just seemed so innocent. But getting to know someone inside out in that time provides a problem when they fall in love with each other.
I really did find myself moved by this incredible story and film making. I cannot help but love black and white films from the 40′s. The more I see them the more I seem to totally love them, I think it reminds us that people have never been as innocent as made out to be. Adultery and affairs have always taken place, and actually been in the films more in the past than now.
A film like this is a tragic love story as the two main characters cannot and will not be together in the end. This is something I much prefer to the rom-com's we are so accustomed to now. All great love stories end in tragedy! Such a shame I hadn't seen this film before making my top 10 lists for tragic love stories, this film would certainly be straight in them!