Brie, Apple, and Fig Grilled Cheese Sandwiches are unique and delicious. Serve as a meal with chips on the side or cut into smaller pieces as an appetizer.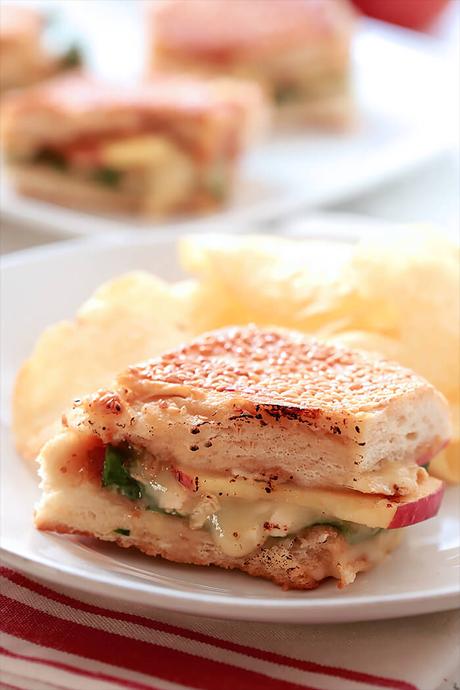 I have been wanting to make this Brie, Apple, and Fig Grilled Cheese Sandwich and share it here for the longest time, and I mean probably years. But I kept forgetting or when reminded I would be lacking one of the ingredients, most notably the Brie.
I'm usually reminded whenever I head to the local Savory Spice Shop because of the little restaurant nearby called Toast, where I originally had my first grilled cheese with brie and apple. It was a revelation and since that eventful moment when I first visited with my daughter Emily, this has remained a favorite.
Jane, a good friend of mine joins me about once a month and we try to find a restaurant off the beaten path to enjoy, we keep a Google spreadsheet for us to add ideas to as we see them mentioned, and now that it's on my mind, Toast has most definitely been included in the mix.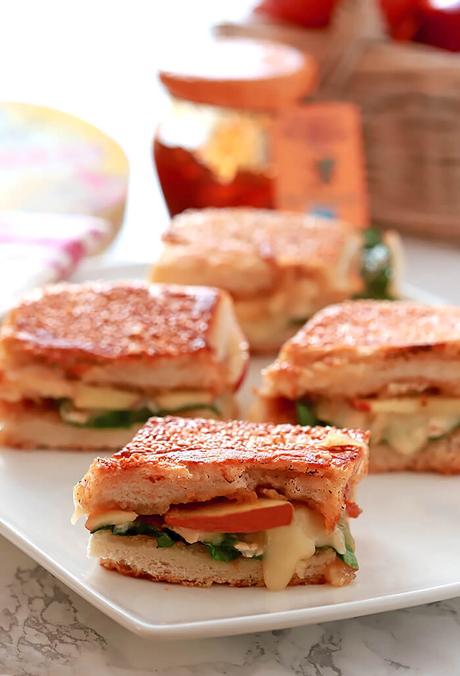 This is almost what I would call a non-recipe; something friends are always asking me to include on these pages. Things that I throw together without much forethought and in my mind don't warrant a blog post about. But it happened again, and if I'm honest...it wasn't a planned photo shoot (and I think it shows!). A friend was coming over from my old neighborhood, I had these planned and when she got here, she is the one who insisted I write up the recipe for Creative Culinary.
No planning ahead of time, not much time even to style and photograph because this was lunch. Took me back to when I first started blogging and had girls to feed; those nights of them practically banging their forks and knives on the table urging me to hurry up, they were hungry! Luckily I wasn't dealing with that so I hurried through some photos so we could enjoy lunch...ahh good times.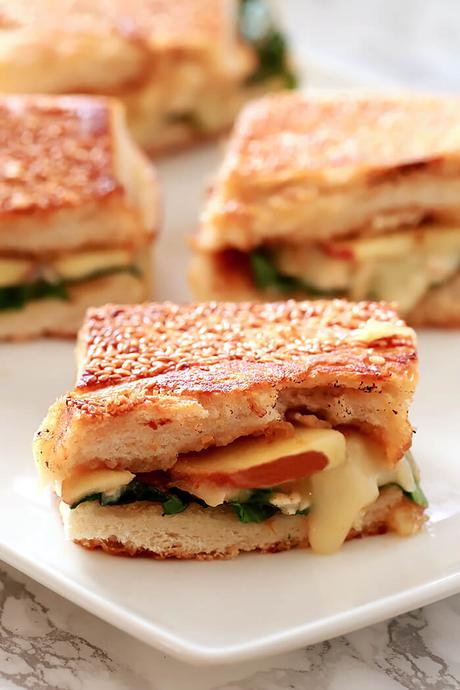 The beauty is that they are easy but a significant step up from plain grilled cheese. The combination of Brie and fruit is always welcome, the jam and spinach leaves add additional flavor and a welcome bit of color and we happily devoured these little bundles. My friend who was visiting plans to make an appetizer version to serve over the holidays and that's a great idea; they would be great for a game day snack too. They kept warm and crisp quite nicely in my toaster oven wrapped in foil and I am sure would work equally well in a regular oven on low heat.
While I love fig jam and the fact that it is not as sweet as some other flavors, this sandwich would lend itself to almost any jam you love. Strawberry, raspberry, even my favorite Blackberry Serrano would be divine. Now I want another one and that will be next!
PIN IT! 'Brie, Apple, and Fig Grilled Cheese Sandwich'