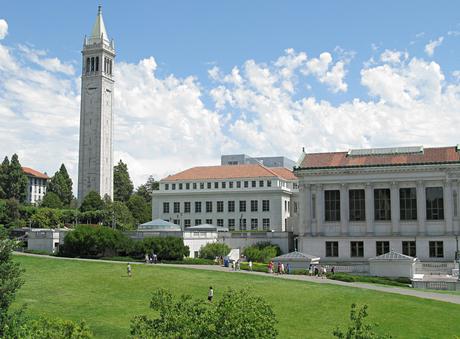 UC Berkeley
I dressed up as Donald Trump for Halloween in 2015. My costume was inspired by my disbelief that a "sexy Donald Trump" costume was being sold on the Internet. Instead of supporting the company that had (seemingly earnestly) created that costume, I decided to parody the idea by making my own. I borrowed my friend's suit jacket and tie, bought a blond wig, and wrote "Make America Great Again" in black sharpie on a generic red baseball cap.  My friend dressed up as Melania Trump: She wore a tight dress, high heels, fake eyelashes, and curled her hair.  I posted a photo taken of our costumes on Instagram, complete with what I saw as a fitting Trump quote: "You know, it doesn't really matter what [the media] writes as long as you've got a young and beautiful piece of ass."
My 2016 Halloween Instagram post featured the same friend and me, but this time we were dressed up as a black widow and a skeleton. Nine days later, in the early hours of November 9th, the presidential election results were confirmed. "Are you okay?" my friend texted me. "I'm scared." I replied.
I was scared and shocked. I couldn't believe that just a little over a year after we had so little faith that Donald Trump could become our President that we caricatured him and his wife, they were now our President and First Lady of the United States. I was disappointed and appalled that a highly qualified female presidential candidate had been passed over by the American public in favor of a candidate who had not only referred to a woman as a "beautiful piece of ass," but had allegedly assaulted many more.
I had spent the election in the liberal community of Santa Monica, California — and even more liberal community at my school, UC Berkeley. Everyone I knew experienced similar feelings of shock, fear, and confusion in the face of the election results. But while most of my friends had been Bernie Sanders supporters, I had always supported Hillary Clinton. I believed in her intelligence, pragmatism, and competence, and I wanted to see a woman who I found personally inspiring lead the country and the world. Her loss left me deeply disappointed and discouraged.
As a woman and as a person of color, I felt particularly vulnerable when a man I view as ignorant, irrational, and incompetent was elected my president. But I found security in the knowledge that my friends all had similar feelings and were starting to act on them. Many of my friends and fellow students at UC Berkeley feel that protest can be used as a powerful tool to show opposition to Donald Trump and the "Alternative Right" movement. Most of my friends attended the Women's Marches in Oakland, San Francisco, and Los Angeles, and my Facebook feed has been constantly flooded with news about protest events since the Inauguration.
Most recently, I witnessed a groundswell of opposition to Alt-Right leader Milo Yiannopoulos' speech on the UC Berkeley campus. Many UC Berkeley students consider Yiannopoulos' previous speeches to be riddled with hate speech and see no place for such ideas on our campus. Many people were posting on Facebook things like "shame on UC Berkeley" for hosting Yiannopoulos or that he "doesn't deserve a stage."  Others were focused on organizing a Resistance Dance Party to attempt to "drown out" Yiannopoulos' words with loud music, dancing, and costumes. There were also lots of healing events and safe space events circulating for groups that have been victimized by Yiannopoulos in his past speeches including undocumented and trans students.
Various student-organized protests came together on Sproul Plaza, but the protests eventually turned violent when a small group of people (who had covered their faces) broke windows, hurled fireworks at police officers, and threw smoke bombs. Following the riot — which led UC Berkeley to cancel Yiannopoulos' talk — my Facebook feed was awash with UC Berkeley students condemning the violence and insisting that Berkeley students had intended to lead a peaceful protest.
While I acknowledge the points made about Yiannopoulos' history with hate speech, the blatant opposition to his presence on campus only underscored doubts I've been having for months now. After the election, I couldn't help but think about the millions of Americans who had never seen Trump as a joke the way I had. I thought about how many people were celebrating his victory while my friends and I mourned it. I kept asking myself how the political views of people in the same country could be so polarized.
While Yiannopoulos may have been a particularly problematic speaker choice, Berkeley students' reactions to a speaker that opposes our community's popular views highlight the increasing polarization of political views in the United States as well as an increasingly accepted stubbornness and unwillingness to attempt to listen to or understand anyone with opposing views. UC Berkeley students, as well as members of highly liberal communities across the country, would do well to engage in active discourse with people who have drastically different viewpoints than them. Perhaps if we had been better about bridging this divide in recent years, this past election may have gone a different way. I know I once thought of Donald Trump as an impossible caricature because I did not understand how and why his ideology appealed to other people. I was in shock after his election because I did not realize how different my views are from other people in the United States.
That being said, I will always fail to understand and feel saddened by how people like Donald Trump and Milo Yiannopoulos' blatant discrimination and belittlement of women and other marginalized groups appeals to so many. There have been many occasions when I have felt completely hopeless about the state of the United States and the world. But rather than write off the individuals who still buy into these hateful attitudes altogether, perhaps we should at least attempt to engage with, question, and challenge them. I believe that this kind of discourse is our best chance at reaching a state of cooperation and progress in this country, that uninhibited communication is the key to uniting a fractured society.