I received this book for free from Netgalley in exchange for an honest review. This does not affect my opinion of the book or the content of my review.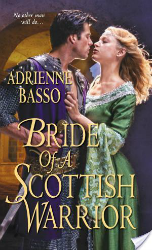 Bride of a Scottish Warrior by Adrienne Basso
Published by Zebra Books on 2014-07-01
Genres: Fiction, General, Historical, Romance
Pages: 352
Format: eBook
Source: Netgalley
Goodreads


A union born of duty. . .Newly knighted Sir Ewan Gilroy needs a dowry and a wife, in that order. Though the widowed Lady Grace plans to enter a convent, squandering so much lush beauty--and such a fortune--would surely be its own sin. Grace will not be easily wooed, despite her family's urging and Ewan's famed charm. She challenges him as no woman ever dared, proving his equal in spirit and in passions. . .Forged by desire. . .To atone for her past, Grace vows to never remarry--least of all a brash and reckless warrior. Yet whether defending her honor or stoking desires she hardly knew she possessed, Ewan is a man beyond compare. And as their fragile trust is threatened by treachery, Grace must decide whether to reach for the happiness within her grasp--and fight for the love of her bold Highlander. . . Praise for Adrienne Basso's How to be a Scottish Mistress
This was a very nice story. Ewan and Grace were really great characters. I liked how they interacted together, and I have a lot of respect for Grace. By how she handled her first husband and how even though she acted in a way she didn't like she stood up and made the best decision. But the guilt had her going back to a nunnery where she felt she belonged but she really didn't. I felt for Ewan and how he was trying to find a bride to help his new keep and to be a wife to him. I liked the fact that he was honest with Grace abut needing her dowry and how he handled her attempts to sway him from his course. These two might not have started out in love but they at least started out with respect for one another, even if it was grudgingly for Grace. The problems with Graces' old brother-in-law were meet head on and while each wanted to protect the other they really found out how much in love they finally were. This book is not all sunshine and roses but the down parts really are more like little dips and the two handle them admirably. I really did enjoy reading this book.

Filed Under: Fiction, Net Galley