The first restaurant slated to open at The Park at Wrigley, the new plaza debuting in Wrigleyville, is called Brickhouse. The restaurant's name pays homage to the legendary Cubs sportscaster, Jack Brickhouse.
Brickhouse will open this summer, offering two stories, outdoor and terrace seating, a tavern-style menu, and a comfortable atmosphere. It will be operated by Four Corners Tavern Group, the company behind popular restaurants across the city such as Federales, Highline, and Fremont. Brickhouse will be one of many establishments in the plaza that celebrates baseball fandom in the community.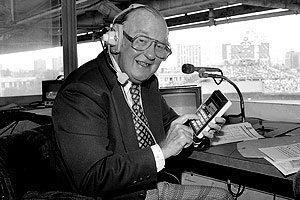 Photo Credit: ESPN
Jack Brickhouse left his mark on many Chicago teams, such as the Bears, the White Sox, and the Bulls, but his run with the Cubs might be his most memorable. The Illinois native voiced Cubs games from 1941 – 1945 and from 1948 – 1981. Brickhouse and Harry Caray were quite the team, as both spoke memorable lines and expressions throughout the games, with Brickhouse's signature "Hey-hey!" going down in sportscaster history. Brickhouse was inducted into the Radio Hall of Fame in 1998.
In addition to Brickhouse, a Starbucks Reserve has been confirmed to open at the plaza. Other establishments have yet to be disclosed. The Park at Wrigley has plenty of outdoor programming planned as well, such as a weekly Green City Market and Movies in the Park during the warmer months.
Eat up! @4cbars, the group behind @benchmarkchicago and @federaleschicago, is opening a new tavern-style restaurant at the Park this summer.

A post shared by Park at Wrigley (@parkatwrigley) on Apr 6, 2017 at 2:39pm PDT
Featured Image Credit: MLB