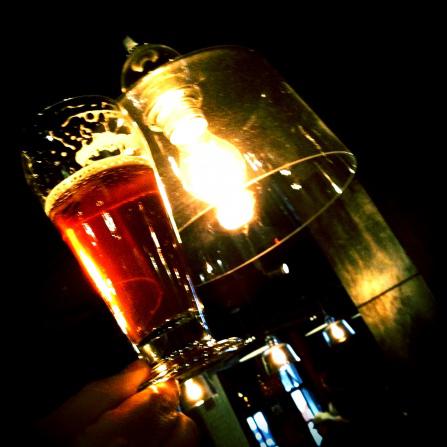 Prior to our evening of spirits and fun at Spirits Confidential Philadelphia, G-LO, Crazy-Eye, and I connected at the Cooperage for a "pre-game" drink.  Given my planned trip to Colorado in the spring I opted for a Great Divide Hercules Double IPA to sample more of what the CO based brewery has to offer.
The brewery's description on this one read more like a warning label than your typical description.  They say the Hercules "… is not for the faint of heart …" and that it "… delivers a huge amount of hops from start to finish".  Well these are warnings that are more likely to pull me in than scare me off so let's dive in.
Brew Stats
Appearance:  Clear and pale copper with a white two finger head
Aroma:  Hoppy and floral with hint of toasted nuts the reminded me of the smell of the nut and taffy shops from the AC Boardwalk when I a kid.
Taste:  BAM!  Hop explosion.   Very piney.  Very floral.  The nuttiness comes through almost like nutty toasted granola.  The finish is astringent with a mouth puckering hop bite.
ABV:  10%
If you "kinda like hoppy beers" this beer is kinda going to kick you in the mouth.  If you, like me, are a a hop head you'll love it.   But take heed of the brewer's warning, at 10% this one will hit you in the mouth with hops and kick you in the ass with the ABV.  You can tell it's a high-test brew but this one goes down way too easy so enjoy it responsibly.
Cooperage note:  G-LO had visited the Cooperage before but this was my first time.  It is a gorgeous bar with an industrial "steampunk" feel.  Their whisk(e)y list is impressive and their beer list, for this occasion, was great.  While we only got to stop in for a quick drink I could tell I need to explore the place a little more.  I will definitely be back to try some of those whiskeys and perhaps pick up some interior design ideas for my planned industrial themed basement man cave.