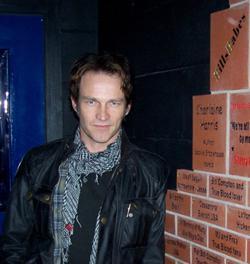 Since opening, The Vault and Allstephenmoyer.com, we have supported the fundraising efforts for The Brentwood Theater located in Stephen Moyer's hometown of Brentwood, Essex, England. Our interest was at first because Stephen was the theatre's patron, but that quickly grew into a desire to help offer children the opportunity to see such an art form as "live theater." You can read about it more here.
We're proud of our association with the theater and are grateful that Mark never forgets us when speaking about his fundraising efforts (see below).  
In an interview below with yellowad.co.uk, Mark Reed and David Zelly, who have just celebrated 10 years at Brentwood's community theatre, look back at their decade in charge.
They realised there was much more involved than booking shows, which was fine because they both love theater – especially when it is centred in the local community, like Brentwood.
"The theater has come a long way in the past 10 years," Mark said.
Along the way it has acquired Lord Petre as President, actor Stephen Moyer – a hit in the American series True Blood – as patron, new dressing rooms, a reputation for fantastic
Christmas shows for children, an army of volunteers and a special place in the community.
When the duo took over, the theater trust, which had campaigned for 15 years before it finally opened in 1993, could only 'afford' Mark a day-and-a half a week. "I had to continue working in banking to subsidise my time at the theatre," he said. "I was the admin/marketing person, and David who was on the technical side was full-time!"
He also had a love of amateur theater and is not only great with lighting and sound, he designs and makes sets.
Since then the theater has gone from strength to strength, and Mark is also employed full-time now.
"The joy of running the theater is the community aspect," David said. The theater has to be completely self-supporting needing £100,000-a-year. It receives no outside funding.
Mark is chief fundraiser – he ran the successful £350,000 campaign for new dressing rooms. His fundraising schemes have included 10k runs, zip wire exploits, buy-a-brick scheme, selling angels, and founding a Friends society. Brentwood-born Stephen Moyer's American fan club raises around £5,000 each Christmas to send for schools to the Christmas show.
Mark and David are looking forward to the next 10 years – and are planning to extend the Spotlight Bar. The bar was fine when 40 people was seen as a good house. Now that is 70 to a 100 – or as many as 290.
"We hope we have created a theater that people and actors enjoy – we certainly do," said Mark.
We congratulate Mark, Stephen Moyer, and all at the Brentwood, for their wonderful accomplishments and look forward to our continued association with the theater.