By the time I got to Bremen's Hauptbahnof I was looking for another full packed day of sightseeing, but something told me that I wouldn't be changing U-Bahn lines all day. You ask why Bremen? I say why not?! Located one hour away by train from Hamburg's central railway station I just couldn't say no! Beer, small winding German streets and a small city feel is just what Bremen is. Bremen, I'm going to be OK! 
Like all good German mornings Bremen greeted me with a blanket of fog so I had an idea that sunnier climbs and blue skies would find me eventually. I'm going to be honest to the core I just wanted to see some quintessential German architecture so the St.Petri Dom and Amarkt area fully fulfilled my request for Bremen. I don't look into the figures of such structures but it doesn't take a genius to work out that the cathedral that's featured to the left has stood through some years! With the earliest records of a church on the foundations of the cathedral dating back to the late 700's it was like a history lesson in real life motion. The whole Amarkt area hit me for the walkway from the Hauptbahnof conveyed a concrete frame of mind, I guess many of the buildings by the train station didn't survive the bombings of WWII but that was that. The council building stuck out like a sore thumb but the more time I spent taking photos of the Amarkt square the newer buildings seemed to blend. 
Danke Für Alles? I've gone all German again! I just wanted to say 'Thanks for Everything!' to Bremen for showing me a slice of Germany that I had imagined. I never planned to visit Bremen but with another cheap deal from Germany's national rail company I just could not say no! I wanted to have some proper German chocolate but like I mentioned before I take frugal to a whole new level so I kept some chocolate aside that I had bought from a Lidl Supermarket in Berlin, I beg to you it was still German! Remembering Bremen makes me think of not having to take any public transport at all! I had to dodge the Dutch market that was being held in the square behind Peter's Cathedral, it really didn't impress me much. Back to Amarkt where I noticed a parade of bars that tastefully endorsed the local brew of Beck's so I had a duty to stop by for a beverage on my way back to the Hauptbahnof later that day. 
Dinner time approached fast so I looked for the Schnoor, a series of streets that date back to the 15th Century that were literally prettier than a picture I was a little bit in love by what I saw! By this time in my Germanic adventure I hadn't really eaten at a completely German restaurant or pub so my final day was a challenge to find some top quality honest German grub and beer! Choosing 'Kaiser Friedrich' had to be the one for it looked the part I tell you! With its wooden-clad interior and friendly German hospitality I was in the right place for a hearty meal and drink. Choosing the Frikadeller with a mushroom creamy sauce that was served with mashed potatoes, I choose to drink a pint of Holsten because it would been rude not to! I must of been the only Brit in the whole place for the conversations around me were completely German but I wanted to be part of a setting that didn't contain any foreign tourists just locals. Built in 1635 I was dining at a true Schnoor establishment in Bremen! 
I got pretty comfortable at the Kaiser Friedrich within Bremen's Schnoor until some rude lady asked if she could have my table in German, I was like no! Aside from that lady's display of pure feistiness I had a great time at the Kaiser Friedrich pub. I didn't hang around much after I had finished my meal for I wanted to make the most of the Schnoor whilst things fared to be relatively quiet for people annoy me when a sight looks as good as the Schnoor did. I also find it quite aggravating to take photos when people are taking their sweet time doing whatever they please whilst I'm trying to be patient to take that photo, one which could make or break a blog. Time didn't pose to be of any essence for I made the most of the Schnoor and even had time to pop back to Amarkt to take some more snaps. I loved Bremen! I mean that, it's not like I'm being paid to say that?!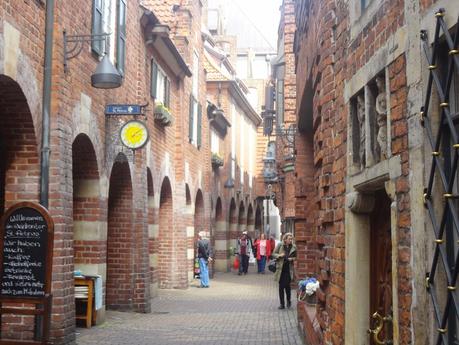 Bremen didn't seem like the place for modern skyscrapers so that was good for me, I was nearing the final part of my day in Bremen and wanted to see something new! From the winding streets of the Schnoor to another suitable sight within Bremen's historical quarter. 

B

öttcherstrass

e is a really charming street that's made up of coffee shops, museums and the daily song of the famous Glockenspiel. At the front of 

B

öttcherstrass

e there is the 'Lichtbringer' a gold-plated mural that marked the entrance to Bremen's secret main street, a sight I don't think anyone couldn't love!? I was thirsty for some more German beer and with a significant amount of my Euros left I found a quiet pub just off 'Cooper Street' to enjoy a beer or two. Did I not mention the translation for 

B

öttcherstrass

e? Well '

B

öttcher' just means 'Cooper' so after-all a pretty 

extraordinary street has quite a humdrum name, let's never translate anything into English?! The sun finally made an appearance so everything looked amazing! 
Regaining some kind of composure I paid for my beers to get back to the center of Bremen's action, Amarkt looked just fine during the late afternoon sun so I would of been a fool not to have another beer. My train would be leaving with two hours so I worked out one more pint of Beck's wouldn't really hurt. Compared to the quiet scene that I witnessed in the morning it was easy to see that Amarkt was a hubbub of energy with people sitting in the sun who were just having a great time. Bremen had something that pleased me with its 15th Century pubs and cathedrals I knew that my time in Bremen gave me everything to conclude my whirlwind five day trip to Germany. Berlin was busy and vibrant with lots to see and do, whilst Hamburg had a bohemian edge within the St.Pauli district but I know that Bremen's Schnoor, Amarkt and 

B

öttcherstrass

e showed me something truly German! So that's why I want to say 'Thanks for Everything' Bremen! 
Kaiser Friedrich! That's One More Holsten Bitte-
schön
!?
Joseph Harrison