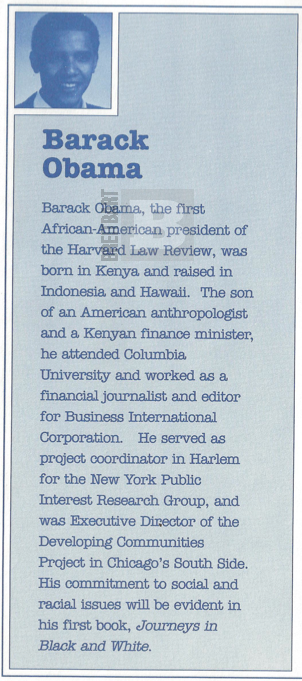 FINALLY, is this something of substance from the remnants of the 'heart attacked' Andrew Breitbart team?
And though they 'really don't like admitting to being 'birthers''...
Breitbart News has obtained a promotional booklet produced in 1991 by Barack Obama's then-literary agency, Acton & Dystel, which touts Obama as "born in Kenya and raised in Indonesia and Hawaii."
The booklet, which was distributed to "business colleagues" in the publishing industry, includes a brief biography of Obama among the biographies of eighty-nine other authors represented by Acton & Dystel.  
It also promotes Obama's anticipated first book, Journeys in Black and White--which Obama abandoned, later publishing Dreams from My Father instead.  
Dystel did not respond to numerous requests for comment, via email and telephone. Her assistant told Breitbart News that Dystel "does not answer questions about Obama." [source BREITBART]
Wonder if this is ALL OVER THE MAINSTREAM MEDIA in the USA yet, or is it just 'old news that's been skotched seventeen times already this month' (sic)?
DAY LATER UPDATE:
An apology for the "mistake" in Barack Obama's official biography that said he was 'Born in Kenya' has conveniently been rushed out onto the world scene in rapid-response to the bombshell published today at Breitbart and made truly viral at the Drudge Report, along with a new media fiction theorizing that the "mistake" may well have given birth to 'birther rumors' in the first place.
[source INFOWARS]
Classic counter-intel stream.