I'm sure there's still a few of us that wish we could fly.
Though things like airplanes, and even skydiving, have made soaring through the sky somewhat possible for us, "The Skyline" Chicago may be giving these two a run for their money.
What is "The Skyline"?
"The Skyline" will serve as a sight-seeing attraction mixed with some transportation benefits. It consists of aerial gondolas, which are cable cars that suspend in the air. Aerial gondolas typically travel through urban areas, which makes "The Skyline" the perfect complement to Chicago's new tourism initiatives, as well as convenient traveling from one popular Chicago destination to another.
What is the logistics?
"The Skyline" is a $250 million project and is projected to take up 18 months to build. It plans to attract 1.4 million people a year and can generate $330 million for the city. Rides on "The Skyline" will last for a half an hour, and it accommodates 3,000 people per hour. The gondolas will hang from 17 stories above water.
Where will "The Skyline" take you?
It will ride across the Chicago River, from Wacker Drive and Lake Street, and the Navy Pier. It will also make stops along the way, one near Millennium Park.
How much will it cost?
Currently around $20 a ride.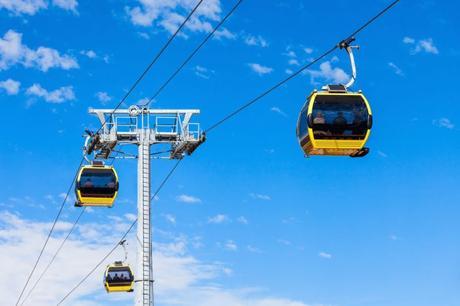 What are the benefits?
Other than a new, breathtaking view of the city, and easier transportation to some of Chicago hot spots, "The Skyline" introduces other great opportunities for the city.
It isn't using taxpayer's money, as there are high hopes for investors to fund the project. With "The Skyline" being able to accommodate thousands of people an hour, this attraction will create many new jobs. Lastly, it introduces the opportunity to educate Chicago youth on a cultural level.
Have you taken any gondola rides before? Let us know what we should expect with The Skyline Chicago below!
Photo Credit: Oregon Live