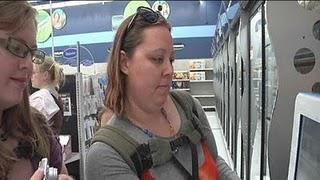 I can't comment on this story because it's controversial, but I am sure you can guess what I'm thinking. This story ran on HOI tonight:

FROM WHOI: Maggie Borkholder of Hudson is the picture of frustration.
She says she had to argue with a clerk and manager of the Meijer store in Normal to get a photo processed in which she was breastfeeding her baby. The manager told her, according to company policy, the image was considered obscene.
"I told him I would like to see a copy of their policy stating that I would not be able to purchase my breastfeeding photo," said Borkholder.
"I wanted to make sure that there were specific guidelines in those policies stating that breastfeeding is considered obscene. They were never able during my visit here to present that policy to me."
The store eventually processed Maggie's photo but the experience made her angry. To bring focus to the issue Maggie and about two dozen other moms staged a "nurse in" at Meijer on Thursday afternoon.
And they had their breastfeeding photos processed.
The Leader of a local breastfeeding education and support group, known as the LaLeche League, says they were trying to make a point.
"We're just raising awareness," said Lauren Breyer. "We want Meijer and other businesses in town to know that breastfeeding isn't indecent."
Melissa Hubbard, a friend of Borkholder's, hopes the demonstration will make Meijer reconsider their policies.
"I would like them to state in some way that its ok to print breastfeeding pictures," said Hubbard. "I feel that it's a way for mothers to capture that memory the same way a bottle feeding mother would."
Store management declined our request for an interview, but this time Maggie was met with no resistance. Still, she was skeptical.
"I feel like they don't want bad publicity, so they're helpful today."
But officials from Meijer offered Borkholder and her army of moms an olive branch and allowed them to have their pictures processed for free.