MTR Foods has a 90 year old history of serving authentic and traditional food to Indians. The brand is famous to introduce delicious Indian food in an easy-to-use packaged format including breakfast, lunch and dinner, snacks and even desserts. The brand has been able to find authentic recipes from its origin and pack it into a convenient modern formats by still keeping the taste and quality of the dish.
Read my review on other Products like Essence Vitale, Saffola Masala Oats, Jiyo Natural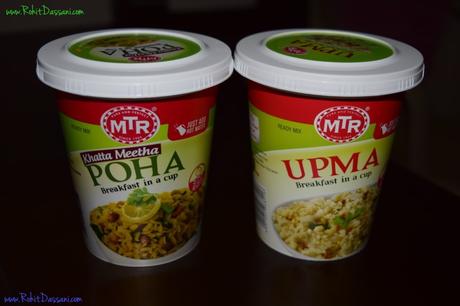 Don't miss your Breakfast
MTR Foods recently introduced its breakfast mixes with the launch of – 'Breakfast in a Cup' line of products. The company has come up with Upma and Poha variants making sure the breakfast is wholesome as well as convenient at the same time with an emphasis on the importance of breakfast in daily life. The options are made available for people with busy lifestyle or people on the move who do not have time to either make or eat breakfast.
The variants take only 3 minutes to cook with the addition of hot water. The cups come with a spoon so that it is easy to carry without any hustle. These variants currently come as Poha, Khatta Meetha Poha and Upma and are available in 80 gm cups priced at Rs.45 each. The taste of these items are quite authentic as I tried the Khatta Metha Poha and the Upma. These boxes are available at all supermarkets and convenient stores near you.