Rated: 4.5/5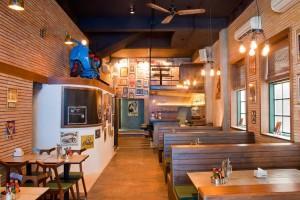 They say 'well begun is half done' and I, for one, whole heartedly believe in this one. And today I talk about this phrase in terms of the first meal of the day, the breakfast. Yes, I am a breakfast person, a good breakfast for me means a super happy me for the rest of the day and if it's on a weekend then it's even better!

I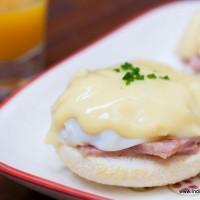 headed to Monkey Bar for its BreakFirst (that's what they call their breakfast) one of these Saturdays. As you enter you come across the quirky interior which is rather cozy. As I was hungry and I went straight for the menu. I first ordered for the
Eggs Benedict
(Rs. 195) which is an English muffin topped with ham and a poached egg which is covered with hollandaise sauce. This was prepared beautifully well to say the least. The egg was perfectly poached, and the hollandaise had just the right texture and had the right seasoning.
Moving on, the pork fan in me was rather happy to have seen the Pandi Curry (Rs. 325) on the menu. This curry at Monkey Bar is served with grilled pita bread. Again, this tasted nothing short of awesome! The curry had the perfect balance of masalas and the meat had nicely soaked up the flavor from the curry.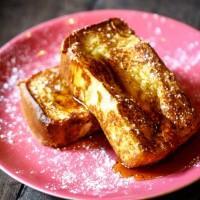 Next, I had the '
Toast to France'
(Rs. 195), which is Monkey Bar's version of the French Toast. Thick slices of Challah soaked in eggs, milk, wine, orange zest, cinnamon, honey and vanilla and then pan fried which is served with their house syrup. I've grown up eating French Toast and this for me was sheer bliss..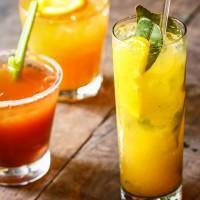 Also, for the first time ever I ordered for drinks early in the morning! In my defense, the description of the drink asked for it to be ordered. I asked for the
'Wild Leaf'
(Rs. 500) which is a drink that has Vodka, Kaffir Lime, Orange juice and Passion fruit essence. It's a refreshing and balanced drink that accompanied my breakfast well.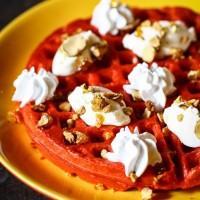 To wrap up I had the
Red Velvet Waffle
(Rs 215) that's served with Cream Cheese and Almond Praline. The waffle tasted nice but the only grudge I had was that there could have been a little more Cocoa in it.
Overall, this is one of the best! breakfasts I've had till date. And Monkey Bar, I am surprised why I didn't come for this breakfast earlier, hoping to see you super soon, again.

Food: 4.5 | Ambience: 4.5 |Service: 4.5 | Overall:4.5
Meal for two: Rs. 1200| Alcohol: Yes | Credit Card: Yes | Timings: 9 am to 12 Noon
Address: 14/1, Wood Street, Richmond Road, Bangalore | Telephone: 080 41116878
- Aparna Jha