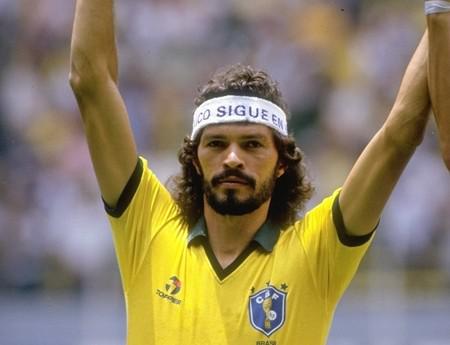 Sócrates. Photo credit: Sergio Concalves Chicago
Brazilian football legend Sócrates has died at the age of 57. Brazil's former captain Brasileiro Sampaio de Souza Vieira de Oliveira Sócrates had been in a critical condition with an intestinal infection since being admitted to intensive care on Friday at a hospital in Sao Paulo.
Socrates played in two World Cups, won 60 caps for his country between 1979 and 1986 and scored 22 goals. Sócrates played at the 1982 and 1986 World Cups but never lift the trophy and, alongside the likes of Roberto Baggio and Johann Cruyff, is considered one of the greatest players never to have won football's ultimate prize.
Off the field of play, six foot four Sócrates qualified as a medical doctor while playing for Botafogo in Rio de Janeiro. As a result, he was often lovingly referred to as The Doctor by teammates and fans. Sócrates was known for his commitment to left-wing political causes and his hearty appetite for fathering sons (six), drinking alcohol (he once described it as his life's 'companion') and smoking cigarettes. "He was what Keith Richards would have been had he fallen in love with the 1953 Hungarians rather than Chuck Berry, although Socrates' drink of choice was beer rather than Jack Daniels", noted Tim Rich at The Independent.
In 2004 aged 50, Sócrates made an appearance as sub for Garforth Town in England's Northern Counties League after a one-off deal to become player-coach.
Fallible god. Sócrates was "embodiment of philosophy", adjudged Patrick Barclay, chief football correspondent, The Times (£), who said he belonged to a "more romantic age in international football, a period in which Germans played like Germans, Italians like Italians and Brazilians like fallible gods." Turning to his glittering playing career, Barclay marveled at his career totals of 396 club appearances and 207 goals, "the latter a remarkable figure for one considered more a playmaker than a finisher."
His boyhood heroes included John Lennon, Che Guevara and Fidel Castro, and, after retirement, he continued to write newspaper columns about politics and economics. He named one of his sons Fidel.
True bohemian intellectual. Sócrates was "anything but the caricature footballer who kept his brains in his boots", noted The Daily Mail's Jeff Powell, who said The Doctor "based his version of Brazil's Beautiful Game on intelligence and philosophy more than skill and samba. In the spirit of the true bohemian intellectual, he failed completely to fulfill his strolling mastery of the game . . . and has now fallen, a fatal victim of his louche lifestyle at just 57 … The reality is that all the years of hard drinking and heavy smoking had left that gangly body too weak to recover from a dodgy stroganoff." Powell described Sócrates as the ultimate "thinking man's footballer" whose "unhurried disdain", "aloofness"  and overall "air of semi-detachment" often "left him unnoticed as he ambled forward to score priceless goals."
"Sócrates can play football backwards better than most can play facing forwards", praised Pele.
Football's king of cool. Sócrates was "football's king of cool in the Eighties, the epitome of lean, straight-backed elegance", purred Henry Winter of The Daily Telegraph, who said the "only silver lining to the cloud spreading after such sad news emerged from Sao Paulo was that people flocked to YouTube to watch Sócrates in action, marvelling at his backheels, relishing his passing and savouring those magical goals at the 1982 World Cup. His gospel of good football continues to be spread." Winter concluded that Sócrates "embodied the essence of the Beautiful Game, of an obligation to entertain."
"To win is not the most important thing", reflected Sócrates. "Football is an art and should be showing creativity. If Vincent van Gogh and Edgar Degas had known when they were doing their work the level of recognition they were going to have, they would not have done them the same. You have to enjoy doing the art and not think, 'will I win?' ".
Watch more YouTube highlights here
More on sport

Gary Speed's death: Sport and suicide
Gary Speed: Why, wonders world of football?
More in memoriam »