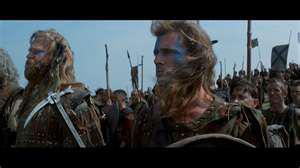 In watching Braveheart one would assume Mel Gibson was trying to make the greatest movie in history, and despite what all the critics and unhappy historians say, I think he did a brilliant job with the film, and while Braveheart has its flaws, it overcomes them with great acting, fantastic direction, and just about the most unforgettable ending I have ever seen. I would be lying to myself and cheating Mel Gibson if I said Braveheart was anything short of a masterpiece, call it a flawed masterpiece at worst.
What people need to understand is basically all Gibson did was take the general story of William Wallace and make a long, epic story about it. The film's most famous scenes more than likely never took place, but even so the world still does not know that much about the actual person of William Wallace, so you can't really blame Gibson for the way he made Braveheart.
Set in the 13th Century where the cruel king of England, Edward I (also know as "Longshanks") will stop at nothing to take the crown of Scotland, who is in need of a king. Many people are in favor of allowing the invasion from England, because Scotland is certainly no match for them, but when a man named William Wallace (Mel Gibson) comes along everything begins to change.
Initially Wallace wanted nothing to do with the war, though after his wife is murdered (with the intentions of bringing Wallace into battle, of course) he has no choice but to fight, and in order to make them pay for the deeds, Wallace and a few other Scotsmen destroy the English garrison and kill the sheriff who murdered his wife.
Wallace begins to build an army as he fights against England (and wins) quickly making him a legend, all while more and more common Scots join his army. However, Longshanks does not truly fear Wallace until he invades the City of York successfully, which is the point when Longshanks knows a deal must be made.
Wallace wants nothing to do with a deal, and after they lose a battle to England the Scotsmen don't believe they can win anymore, and Wallace is betrayed by a Scottish noble, forcing him to go into hiding for seven years, where he is eventually captured.
I actually would have liked to go far deeper into the story, but really, that would take around twelve paragraphs. War movies have always been one of my favorite genres, and some of my favorite films come from it (Saving Private Ryan, Letters from Iwo Jima, Braveheart, The Lord of the Rings) whether it be a true story or not. And while Braveheart is not my favorite movie out of that bunch, its stance on right and wrong is undeniably powerful. Call me what you want, but in my opinion this is one of the most inspiring movies ever made.
Gibson shows his full directing style in Braveheart, long and very, very bloody movies. The action while fantastic, was unusually violent and sometimes too violent some might say. He has done worse though, I assure you (The Passion of the Christ).
Even so, making a three-hour long movie interesting all the way through is not an easy task, and Gibson pulls this off incredibly. Many of the battle scenes are constructed as well as any, the cinematography is top-notch and the music is arguably the best score in film, I would rank it that way at least. To me, no other director deserved the award but Gibson, his ambition is entirely matched by his talent.
With that being said, I understand people complaining about Braveheart's victory at the Oscars, quite a few brilliant films released in 1995 (Apollo 13, Sense and Sensibility, Nixon, The Bridges of Madison County, Casino, The Usual Suspects) and I could go on. So even though I think it deserved the win, I am not going to pretend like there weren't other deserving nominees.
Final Word – Everyone tells me they don't understand why I like this movie so much, and to be fair to myself, I don't understand why they don't like it. Braveheart is a touching, inspiring, all around incredible film. A masterpiece.
A+