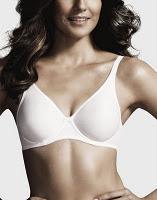 Besides taking action on disability discrimination, mint chocolate biscuits and The Vampire Diaries, there is one other thing I LOVE to talk about - and that's lingerie.
It might seem silly, but working in the lingerie department has given me a new respect for (1) lingerie companies, (2) staff who are trained fitters, and lastly (3) boobs.
Yes, you heard me right. I said boobs in a public blog.
This will either have scared you off, or made you more intrigued (males - I know you are the latter).
And please - what I say in this blog is from my own PERSONAL experiences and my own PERSONAL opinions - and what I say is NOT the be-all-and-end-all of bra fitting! It reflects what I have been taught, what I've picked up from working in a lingerie department, and what I've actually worn!
Now! :) That being said, I have respect for lingerie companies. Lingerie companies, except those who manufacture bras for Kmart, Target and Big W - SHAME ON YOU [but, that being said, some ladies have told me how great a few of your bras have been. How about making all of them that way though?!]. I have respect for them because they have diligently taken the time to design and craft their bras to be supportive, comfortable, pretty (or sexy) and practical.
Companies that design brands such as Berlei, Triumph, Lovable, Playtex, Pleasure State, Elle Macpherson, Kayser, Chloe & Lola, Fayreform, Bendon, Fine Lines, Bonds, Jockey Miss Pink, Davenport and Mossimo have created an assortment of styles that do very different (but important) jobs when it comes to supporting a woman's breasts.
What are these jobs, I hear you ask?
Well, let me tell you lovely blog readers!

Types of bras

The everyday bra: This bra should be comfortable and supportive (we'll get to what makes a bra comfortable and supportive soon). Often it is designed in your basic colour range - beige, black and white. They are used as t-shirt bras and as work/school bras. The best everyday bras I have come across include: 'Berlei Barely There' - in both the classic and Berlei Curves range (classic is sized from 10A - 16E; Curves is sized from 18C - 20G); Fine Lines 'Memory' and 'Convertible' bras ('Memory' being supremely comfortable and 'Convertible' great because it comes with a set of clear straps and you can change the straps 7 different ways); and lastly the Triumph 'Gorgeous T-shirt' bra. Though sadly, their sizing range is limited, from 10D - 18E.
The wirefree: This bra is the most comfortable of all bras, because (of course!) it has no underwire. It is very popular as a 'first bra' choice for the younger ladies, and as a "I would like no underwire thank you, it is so uncomfortable to wear wire, I have worn wire for 50 years!" for the gorgeous older ladies. The most popular wirefree bras Myer (yes, this is where I work) has are: Playtex 'Cross Your Heart' and the '18-hour' range (including Classic Soft Cup and Original Comfort Strap). They are pretty self-explanatory - and mostly for the older ladies. For the younger ladies, a great first bra is Ambra 'Wirefree' or Miss Pink 'My First Bra' - and these come in some sweet little colours.
The maternity bra: For the ladies who are having a baby (congratulations!). These bras are designed to specifically cater for pregnancy - and if fitted properly, will look nice and also be practical. My personal favourites (okay, not from my experience, but from the ladies I've fitted!) are Lovable and Triumph; the contoured cups fitting the best. There are also some new really pretty maternity bras! Made by both Triumph and Elle Macpherson :) Though you will find the Elle ones in the larger Myer stores.
The strapless bra: As such, very self-explanatory, but your strapless is great for low-cut clothing and also for an extra boost! I have found that there is no one universal strapless I like best - it really depends on your shape and size. Lovable, Fine Lines and Berlei all make fabulous strapless bras that are good for all types of dresses and shirts. Usually only come in your basic colour range: beige, black and white. It's very hard to find a coloured strapless! But then again - that's not very practical :P
The post-surgery bra: This bra has clips on both the front and back, so for the ladies who can't reach around to hook their bra together - this design is ideal. You might find some pretty post-surgery bras at specialty stores, such as Spirit of Life at Milton. But you can also find them at Myer Chermside, Indooroopilly and Brisbane City. I don't have as much knowledge about them; however there are some fabulous sales assistants at these stores who do!
The sports bra: My second-favourite type of bra! The sports bra comes in a range of styles on its own - these bras are designed with different 'levels' of performance - for low range of sporting activity, right up to extreme levels. In this department, I have a very strong opinion on which sports bras are best. Berlei run their bras through the Australian Institute of Sport (AIS) and so each new sports bra that comes out has been tested and re-tested to make sure they give optimum support for the sporting-involved. Triumph has a great wirefree sports bra - but other than that, I would definitely go with Berlei.

My Personal Favourites


Now we get to the good stuff! These are the bras I love the best - in terms of 'pretty', 'hot' and 'sexy' factor.
The 'pretty' bras: Chloe & Lola, Elle Macpherson and the Berlei Luxe range. Chloe & Lola is a Myer brand, which frankly, when I first heard of it I thought "Ugh, home brand? That is going to be terrible." I was pleasantly surprised. Chloe have some really really nice patterns and colours that makes them my all-time favourite 'pretty' bra. They are great if you want something affordable (the most expensive one is $44.95, but most of them are only $39.95 - which is FANTASTIC for a decent, comfortable, pretty bra). Make sure you check out their styles if you can! As for the other two - Elle, well. What can I say that's bad about Elle? I suppose the only frustrating thing is the size range! Often Elle doesn't go past a DD cup - which for the larger-busted ladies, this is freaking annoying! However her styles are just gorgeous - some of the patterns for this spring are to die for. And the Berlei Luxe range are actually just the Berlei Barley There, but with lace :) And nice patterns :) Haha.
Your all-around sexy bras: I have one brand, and one brand alone that I am the MOST in love with. And that is PLEASURE STATE. This bra - gosh. I could gush about for hours (I once did, with the Pleasure State rep in Brisbane City! For a good 40 minutes :P She offered me a job afterwards haha). This brand is comfortable, sexy and stylish. It also has a FABULOUS sizing range! (Granted, Myer Brookside doesn't get the larger sizes - except one style, 'Carmen', but the bigger stores do! Something you must check out!). They bring out new gorgeous styles, patterns and colours all the time. You could even go with their basics range - Pleasure State 'My Fit' - as an everyday bra if you wanted. They have 4 major labels - My Fit, White Label, Couture and VIP. My Fit are the most affordable, at $49.95 - and sometimes go on sale for $35. The White Label are my favourite - something about the styles :) Couture are your classic, boudoir styles - fabulous for having a sexy night in ;) And VIP are a great range of both boudoir and pretty/sexy. I could rant about them - but I'll restrain myself!
Too hot for words: Berlei So Smooth Push Up - I can't even talk about this bra, it's so amazing. Imagine - the most COMFORTABLE bra you have ever worn - now times that by 50. This bra (though only in basic colours) is smooth and seamless, has underwire but an incredible padded foam over the wire so you hardly feel it, and gives you a die-for boost. I'm not even kidding. This bra has only just hit stores, but already is gaining a great reputation. Check it out! And the second too-hot-for-words bra is the Kayser Bombshell bra.... I don't really need to say more, do I?
Now, let's move on to some handy hints.
Picking the right bra for you
Now, for a lot of ladies bra shopping is incredibly daunting. It is also frustrating, infuriating and often annoying! I want to give the women reading this blog some tips to help make bra shopping more fun and helpful!
All bras are different: If you haven't been told before, I'm telling you now. NOT ALL BRAS ARE THE SAME. Bra brands are exactly like clothing brands - there's no 'one-size-fits-all'. Thus, if I measure you and say you're a 16DD - that is just a GUIDE. You may very well be a 16DD in most brands, but it is hardly EVER universal. Just remember this when shopping - while it is annoying, you do have to try on each new bra you want to buy. Trust me - this will benefit you in the long run.
Ask for help: It might seem frustrating, especially when there isn't many staff around, but asking for help is the best way to get a correct fitting bra. Even us bra fitters like a second opinion - so ask ask ask! Never be afraid to. No question is silly, and we have been asked everything from "Does this look alright?" to "But why is it bulging everywhere?". I would prefer you ask, rather than buy a bra that doesn't fit you right.
If you are alone: If you are stuck somewhere that offers no assistance, then let me give you a few quick tips on how to tell if your bra is fitting correctly.

A guide to cup sizes and back ranges
The cup: Cup sizes range anywhere from AAA - J. These are the size of your ACTUAL breasts - nothing else.
The back: This is your size 8 - 26 range. Just think, if I wear a size 14 dress, then I am most likely a size 14 in back strap size. This measures from the area under your breasts, across your ribcage and around your back.
A full coverage cup vs low-cut: This refers to the actual cup. A fuller cup will cover most of your breasts, where low-cut will come down low in the front. You can also have a balconette cut, which sits across rather than on an angle over your breasts. Balconette can be harder to fit because if your boobs don't sit right, they will fall out of them :)
But what about boost, contour, soft cup etc?: This refers to the padding in the cup. The picture in the left hand corner of this page is the Berlei Sweater Girl, and it is a soft cup bra. A contour fit will have a thin layer of microfilm that covers the nipple. From these cups you move to boost, super boost, and enhancer - which refers to the padding on the inside of the bra, at the base. This will determine how large you want your breasts to look! :)
Fitting by yourself


Sadly, there is not always help offered in some stores, in which case it is up to us to fit ourselves! Here are a few hints for you if you are stuck in this unfortunate situation!
There should be NO bulges, anywhere: When you try on a bra, if it is bulging anywhere - it is NOT the right fit. A good-fitting bra will sit smoothly across the top of your breast, sit flat in the middle of your two breasts, and sit square and straight around your whole body. Under your arms, where there is commonly the most 'bulge', should be sitting so (if you do have some excess skin under there) that it isn't being cut into - as flat as it can be.
That being said, your bra shouldn't be too loose: A good indicator that your bra is too big for you, with both the cup and back, is if you hunch your arms forward and there is a big gap between your breast and the cup. Also, you find the back strap is riding up your back, rather than sitting snug (but comfortable) in that straight line (a classic example - Sharon Stone's bra in The Rocky Horror Picture Show - I could hardly get through that movie without chucking a tanty - who FIT that bra?! I want to swat you with a cute pair of Chloe & Lola undies!)
What to do if your bra is too small: If the bra is bulging around your back, NOT the cup, then you need to go up in back size (i.e. from a 12 to 14, if that is the case). But if it is bulging with the CUP, you need to go up in cup size (i.e. from an A to a B cup).
What to do if your bra is too big: If your bra is too big at the back (which you can tell by pulling it out with your hand - if it isn't firm, and comes out about 3 finger widths - you need to go a size smaller in the back). If it is too big in the cup, then go smaller!
Your back clip should always be on the last hook: This is to ensure you get the most wear out of it! Once the bra stretches, you can continue to pull it in tighter by moving it to the middle hook, then the first hook.
And what about the straps? Do I adjust them?: Yes, you do. The straps should be lengthened enough so that your bra sits square in your back. If they are too loose, you will be able to tell by lifting them up with your fingers. If it comes up more than a finger width, tighten it!
Your bra SHOULD NOT be cutting into your breast tissue, anywhere: This is of VITAL importance. Under your arms, where the wire sits, should NEVER be cutting into you. If it does, it may be the wrong size, or it could be the wrong style bra for you. Just DITCH THAT BRA. :)
REMINDER: If you notice your bra is fitting correctly in the cup, but is way too big at the back, then you need to go SMALLER AT THE BACK, but BIGGER IN THE CUP. All bras have an equivalent size - for example, a 14D is equal to a 12DD; likewise, a 14D is also equal to a 16C. If you go bigger in the back, you need to go smaller in the cup. This includes if the bra is fitting correctly at the BACK, but is way too small in the FRONT - you need to go BIGGER in the cup, but SMALLER in the back. This can sound difficult, and it does become easier with practice and with help. But if you are stuck without help, keep this tip in mind.
Popular Myths

I'm going to address some popular myths there are about bras! These stem from old wive's tales, and some are actually true!
For a first bra, girls shouldn't go for underwire: This is an old wive's tale that I am happy to say is incorrect. Girls who are going from crop-tops to a 'big-girl bra' can go to underwire, but what we like to do is give them something soft to start off with, like the Berlei Barely There, or a Lovable Suddenly Shapely. The myth was that underwire would damage a girl's breasts - and this is only true if the bra is incorrectly fitted! What a girl should do is get fitted for her first bra, but if her or her mum notice any changes (she's getting bigger!) then she should come in and get re-fitted straight away. Problem solved!
It's okay to wear underwire while pregnant: No, actually, it's not. This is something I worry about as a bra fitter - when I see ladies who are 7 months pregnant and are still in their underwires. This can be notsomuch DAMAGING to their breasts - but it can adversely affect their milk ducts - i.e. it can block them. A woman who is pregnant should come in for their first fitting at 3 months, as this is when milk normally begins to produce and their breast may be getting larger. After this, a fitting should be done again at 7 months and then in the final weeks before the baby is due. However this can change - as some women do grow quite quickly, and so if any of the things I've said (bulging in particular!!) starts happening - they need to come in and get re-fitted, no matter what stage they're at.
An ill-fitting bra will give you cancer: For those of you who might be bewildered at this myth - I have actually been asked this! And my response - no. However an ill-fitting bra can cause quite significant lumps on the breasts (not cancerous, more callous) and not to mention be dreadfully uncomfortable!
Do sports bras need to be tighter than regular bras?: Yes. The reason being - a sports bra is designed to both flatten and support you. Therefore a good-fitting sports bra will be a bit firmer than a regular bra - but you should still be able to do it up at the back without having a struggle, and feeling like you can't breathe. Friends - that is no way to torture yourself.
Tips for men
Gentlemen. We all know that you love our lingerie. You are some of my favourite lingerie shoppers. Want to know why?
Because you ask some seriously cute, silly questions.
These are my favourite questions asked by men, and the helpful tips I give them in response.
Q: "She wants something sexy, and so do I. But I'm not sure where to start." My response: "Do you know what size she is?" - gentlemen. This is the most VITAL piece of knowledge you can obtain from your partner/wife. When I ask you her size, and you say "Um, I don't know, medium I think?" I am going to TRY and help you, but it will be very difficult. Find out her general size please - by that, I mean cup and back strap :) 10A, 12B, etc.
Q: "I want to get her that bra advertised in the catalogue. You know, the Embroidered Minimiser." Firstly - kudos to the man who can remember a style name! You're incredible! Or you're closet gay.. haha, no, I kid. <3 Secondly, if you know her size and you're asking me this, I can definitely help with that. However, like I told the ladies earlier, each bra is different. And if she doesn't normally wear this bra, chances are, she's going to return it. Stick with what she normally wears.
Q: "My wife needs a maternity bra." I am going to stop you right there. Without her in the store, I am not going to even try and sell you a maternity bra. Go get her and bring her back. Lure her in with candy and food she's craving if you must.
Q: "I need to buy her a cute matching set." Fantastic! I will help you as best I can. I will show you some of our customer-favourites, and my own favourites, and so long as you know her size and what bra she normally wears, I'm usually pretty good at guessing a style that will suit her. By the way - future boyfriend, if you're out there - you are to buy me a matching set anytime you go lingerie shopping. NO EXCEPTIONS.
Alrighty! I have come full circle, and am now going to talk about what I said at the start of this blog - that I have respect for lingerie companies, trained bra fitters, and boobs. You might be wondering - okay, I get where the lingerie appreciation comes in, and the respect for bra fitters - but boobs? I still don't get it.
Well, you're about to because I'm going to tell you.
I have respect for boobs because they are so very, very versatile. They provide a puzzle for me. When you come in saying "My bra doesn't fit right, can you find me one that does?" I have a little rush of excitement. And no, I'm not gay so it's not for that reason. It's because you have presented me with a challenge. Boobs are difficult! They do one thing, then the next. They are totally unpredictable, and quite frankly, are a little mystifying sometimes.
I relish in this.
There are few things that make me happier than finding a bra that fits, that has made a woman happy, and is on sale so I can sell it to her with a smile!
Foolish, you might say?
Perhaps, but we all have our addictions. One of mine is lingerie. And for that, I do not apologise.
Great websites to check out:
Berlei - http://www.berlei.com.au/index.htmlPleasure State - http://www.pleasurestate.com/ [YAY YAY mini squeal!]Playtex - http://www.playtexbras.com/Myer Intimates - http://www.myer.com.au/fashion_women_intimates.aspxSpirit of Life Boutique -
http://spiritoflifeboutique.com/
Ambra - http://www.ambra.net.au/index.php?id=1
If you have any further questions or comments on this topic, please, feel free to ask!! :)