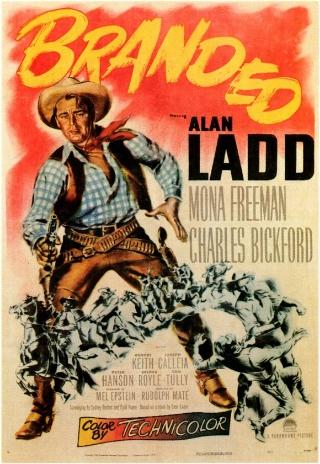 All my life, I've been a snake. I've lived by my wits. I've gotten what I've wanted any way I wanted it. Just lately I've been wondering just for once if I couldn't do something straight… do something a little decent.
There have always been movies that have been said to possess greatness. The reasons for their being labeled as such are frequently discussed and analyzed so it's not that hard to find justification. But what of those films that are largely overlooked? Having recently been asked to participate in the selection of some underrated westerns, this thought has been buzzing around my head. How do some highly deserving movies get brushed aside and miss out on the praise heaped on others? Take a film like Branded (1950), a western which is rarely spoken of and probably unfamiliar to all but the more dedicated genre fans. Yet it has a strong story and a compelling theme, a good cast contributing very convincing performances and solid production values.
Sometimes you can tell from the opening moments that you're going to be in for an enjoyable movie experience, and Branded is a good example of this. In a nameless town a crowd of armed men surround and lay siege to a dry goods store. Inside is the hostage storekeeper and Choya (Alan Ladd), the subject of the gunmen's interest. The situation is tense and the dialog is terse and we learn just enough to know that Choya gunned someone down in self-defense, but no one outside seems too bothered about the right or wrong of it. Making good his escape, Choya is followed by two apparent bystanders. When these guys catch up with the fugitive, a proposition is laid before him, one that promises to make them all rich with minimal risk. Leffingwell (Robert Keith) has been nursing a plan for years and just waiting till he could find the man he needs to pull it off. What Leffingwell has in mind is a kind of masquerade; Choya will pass himself off as the long-lost son of a wealthy Texan rancher called Lavery (Charles Bickford), the boy having been abducted when he wasn't much more than a toddler. With a fake birthmark tattooed on his shoulder and just enough knowledge to sway people desperate to believe their child might be alive Choya duly obliges. Now while Choya may have spent his life hustling and doing whatever he had to in order to turn a buck, he's by no means devoid of conscience. The kindness and warmth shown him by Lavery and his wife starts to gnaw away at Choya, and it doesn't help any that his attractive "sister" Ruth (Mona Freeman) is on the scene too. Gradually, we can see that deceiving these nice people in this heartless way is eating away at him. Unable to bear it any longer, he tells Leffingwell that he's not going through with the deal and plans to take off as soon as he gets Lavery's herd to El Paso. Right from the beginning it's been apparent that Leffingwell is a slippery customer with a ruthless streak, but Choya soon discovers that his partner has an even darker side to him. What he learns in El Paso not only increases the disgust he already felt for Leffingwell but also offers him the opportunity to make amends to people he's hurt badly. By riding into a notorious bandit's lair in Mexico there's a chance to both earn redemption and maybe regain some sense of direction in his life.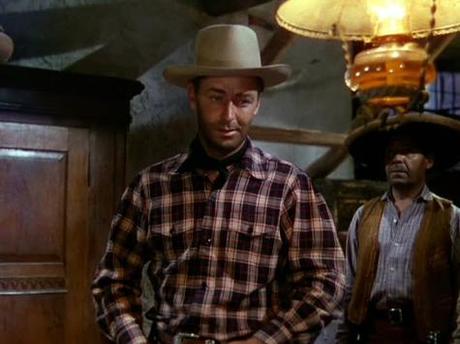 The bedrock of any good movie is the writing; if you're working from a solid script, you're halfway home. Branded was sourced from a novel by the prolific Max Brand (I haven't read the book myself but I have a copy on order), credited here under his Evan Evans pseudonym. The script itself was the work of Cyril Hume and Sydney Boehm, both of whom have an impressive list of writing credits. For me, the basic story is a strong one and the way in which it develops means that it holds the attention throughout. What's more, and this is a feature I particularly appreciate in any film, the development of the plot and characters occurs in a natural, organic way. The opening throws the viewer straight into the middle of the action with no explanation of where we are or who the people are, all that is necessary for us to know is gradually revealed as the story progresses. As such, what exposition there is never has that slightly artificial feel that mars some films. Rudolph Maté started out as a photographer, first in Europe and then in Hollywood, before graduating to the role of director in 1947. I've seen a good many of his films and, as one would expect, they're always visually interesting. Branded, photographed by Charles Lang, is no exception in this respect, and makes excellent use of the Arizona and Utah locations and the interiors. I also thought the shooting angles and compositions were very pleasing, evoking the mood of each scene perfectly.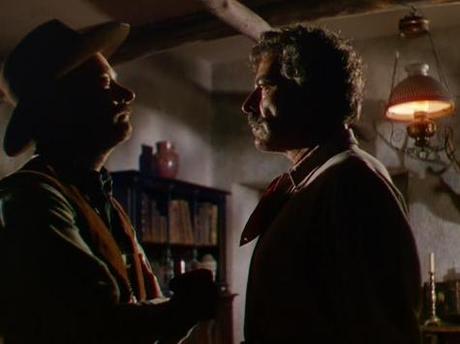 This was only Alan Ladd's second western, following on from Whispering Smith, and his comfort in the genre is evident. He transposes the edgy, taciturn quality of his film noir characterizations to the frontier setting smoothly and, backed by that solid writing I've spoken about, creates a rounded and sympathetic figure in Choya. Successful movies force their leads to undertake a journey, to grow and develop as the narrative moves along. Ladd first appears as something of an enigma, a man about whom we know very little beyond the fact he's living a lawless existence. While the script obviously plays a significant part in opening up the character of Choya, it's Ladd's intelligent and nuanced performance that makes the viewer care. Ladd seems to have been a man riddled with personal insecurities and he taps into that very well in this film. In short, he brings truth to his portrayal of a man who is self-aware, a little lost, and dissatisfied with his own shortcomings. As the chief villain, Robert Keith is extremely good in the role of Leffingwell. His calculating, dangerous nature is apparent from the beginning, but he manages to make the character almost sympathetic (although perhaps it's more appropriate to refer to him as deserving of pity) for a brief time before revealing his real darkness and evil. Charles Bickford was born to play prickly, irascible types and the part of Lavery fits him well – he's upright, determined and credible throughout. Mona Freeman was handed some thankless roles at times but here she got something a bit meatier. There's a genuinely sweet and trusting quality to Ruth, something vital as she's a large part of the reason Choya feels his conscience pick away at him before setting out on that rocky road towards redemption. Finally, Joseph Calleia gets to indulge in some showy theatrics while Peter Hansen offers a sensitive and affecting turn.
Branded came out on DVD some years ago via Paramount and then, like many of the studio's releases, quietly slipped out of print for a time. Recently, it's been reissued via the Warner Archive, although I have no idea whether the presentation of the new iteration is any different. The old Paramount disc I own features a reasonably good, if unrestored, transfer. For the most part, the level of detail is strong and colors look very nice – there are, however, a few instances where they waver a little but it's nothing serious as far as I'm concerned. There are no extra features offered. As I said at the beginning, Branded is one of those films I feel ought to have a better reputation. It's never less than solid and boasts first class performances from Alan Ladd and Robert Keith in particular. The story too has that tough sensitivity that distinguishes the best 50s westerns – it's pacy, exciting, warm and intriguing, and it's well worth an hour and a half of anyone's time.