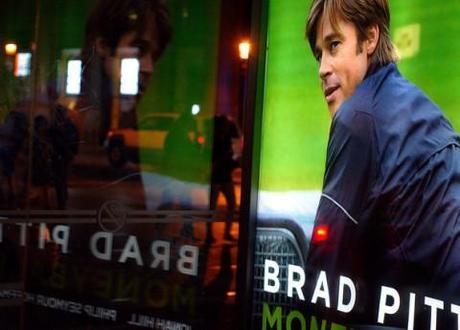 Brad Pitt stars as a baseball coach in Moneyball. Photo Credit: Ian Muttoo
Moneyball is a baseball film, with a twist — it's actually a movie about the business and statistical decisions that contribute to sporting success. The story focuses on how baseball manager Billy Beane (Brad Pitt) enlisted the help of nerdy Yale graduate Peter Brand (a semi-fictionalised character played by Jonah Hill), and how his theory of "sabermetrics" helped propel the lowly Oakland Athletics baseball team from a series of embarrassing losses to a series of 20 consecutive wins (the American League Record) in 2002. The film shows that even with a great deal of spirit, intelligence and 20 wins under your belt, finance is everything in baseball and, that — in the final financial analysis — a team is only as good as its last game.
Based on Michael Lewis's 2003 book Moneyball: The Art of Winning an Unfair Game, the film certainly has the pedigree for success — it's written by Aaron Sorkin (The Social Network) and Steven Zaillian (Gangs of New York) — and is getting mostly positive reviews across the board.
A 'melancholy' movie about the business of baseball. Roger Ebert at The Chicago Sun-Times gave Moneyball five stars. He praised the "intelligence and depth" of the film and said it surprised him, despite the fact he knew the story. Moneyball, he said shows us that "Baseball is a business. Only we fans love it as a game."
Great performances and a great script. Manohla Dargis's review in The New York Times praised Bennett Miller's direction and the film's cinematography, and singled out Brad Pitt's performance as exemplary — according to her, it's "relaxed yet edgy and sometimes unsettling."
Pitt is great but he unbalances the film. David Edelstein at New York Magazine rated highly Pitt's performance, but said that it overshadowed "the meaning of the on-base percentage" and lead him to conclude that Moneyball "has everything but team spirit." Overall, he wrote, "the movie doesn't quite come together, but it's full of smart, cynical talk, and it's very entertaining."
Moneyball is 'gooey.' Catherine Shoard at The Guardian found the film uninspiring and Pitt's performance that of a "knackered lunk." She says that the film lacks subtlety and vision and that "Moneyball fails to deliver any thesis on whether or not people can be condensed to data." The only thing she seemed to like about the film was Hill — she found his performance to be "surprisingly affecting … shy but not simpering, with a refreshing lack of character arc."
More on Film

Lack of driving in Ryan Gosling-starring Drive prompts Michigan woman to sue
Opting in to pornography: The ins and outs
The Avengers trailer drops, anticipation for Scarlett Johansson-starring film mounts
Real Steel: Too much robot, not enough story, say reviewers. Audiences flock to the Hugh Jackman film regardless
More film »