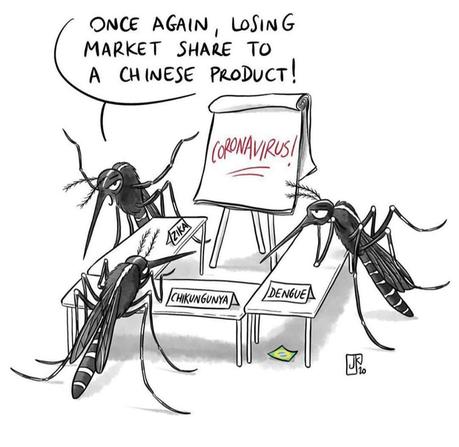 Practical tips for Ugandans, Corona Virus symptoms, freephone numbers for advice, further reading on COVID-19, advice to travellers to Uganda, how to reschedule gorilla tracking permits in Uganda
The last few days have felt surreal. I feel like I'm on the set of a John Wyndham science fiction movie. Everything looks the same yet everything is different.
My world view has shifted.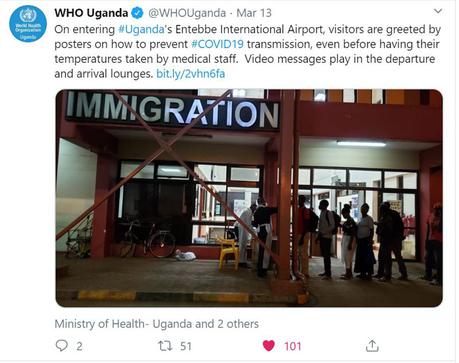 Corona Virus testing Entebbe Airport Uganda
John Wyndham is famous for books such as The Chrysalids and The Day of the Triffids which "chillingly anticipates bio-warfare and mass destruction." I'm not a conspiracy theorist but the sight of strangers wearing masks in the supermarket and the notion of unseen dangers in everyday life has clearly rattled me over the past weeks.
As Uganda braces itself to deal with corona virus (no reported cases yet but follow @WHOUganda for the latest news), holidays are being cancelled and tour operators are looking despondent. I have an international flight booked for June (but will I make it to the UK? Will I make it back into Uganda, I wonder?) African tourism - global tourism as a whole - looks pretty doomed right now.
Statement from Uganda Tourism Board, March 4th 2020: "The Ministry of Health has advised that travelers from affected countries will be required to undergo a 14-day isolation process for daily monitoring by the Ministry of Health. It is therefore the recommendation and encouragement of the Uganda Tourism Board that intended travelers to Uganda from the affected countries maintain their bookings but delay their travel until a later date when the disease is globally contained and no longer considered an outbreak."
Letter from Uganda Wildlife Authority regarding rescheduling of gorilla tracking permits (and other activities in the National Parks), 10 March 2020: "The authority has therefore reviewed its reservations, booking and cancellation guidelines as follows:
Any request for cancellation will follow the existing cancellation policy / procedure.
All late schedules will not be charged for clients whose travels are affected by coronavirus as long as the request is made before the tracking date. However, no more than two reschedules will be allowed for any one activity.
All permits should be fully paid for at least one week to the tracking date.
Discount permits can be similarly rescheduled without any fines."
Would the world not allow Africa just a little time to celebrate the momentous news reported below this week?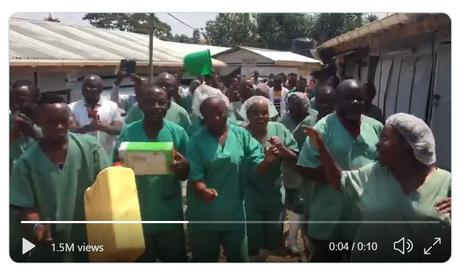 The last Ebola patient has been discharged from a treatment centre in the Democratic Republic of the Congo.
A 42-day countdown has begun to declare the end of the world's second-deadliest Ebola epidemic. https://t.co/inNZYioo7H - United Nations (@UN) March 4, 2020
Scroll down for useful links and advice on Corona Virus or COVID-19.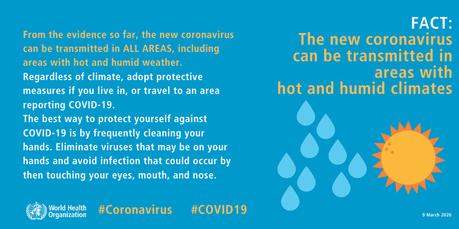 One of the rumours I've heard in Uganda is that our climate is protecting us from Corona Virus. Not true #fakenews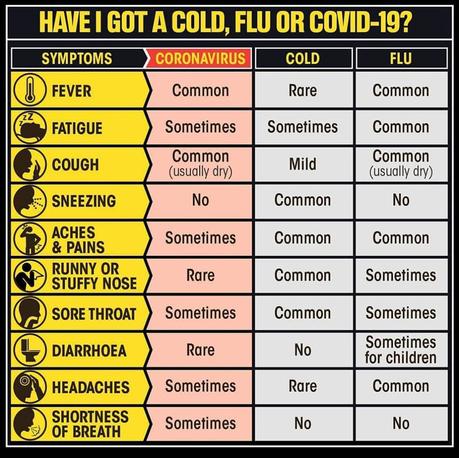 Have I got Corona Virus. How to tell if you have Corona Virus, cold or flu. Uganda health advice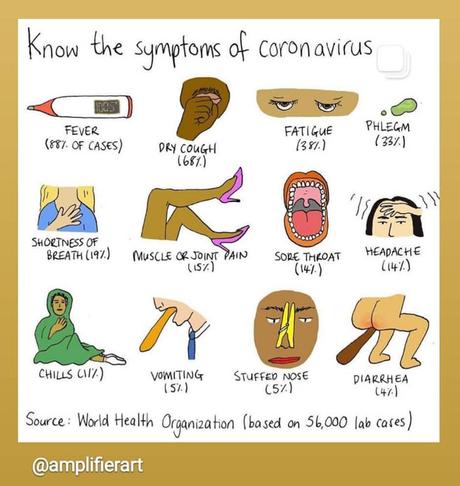 Know the symptoms of Corona Virus. Graphic by @amplifierart
I'm not going to pretend to be a Corona Virus expert but shall be adding links to useful tips and information as I find them. There is (15th March 2020) little practical advice online in Uganda about how we should respond to Corona Virus. One of my best friends is registrar at a London hospital (and heads up the hospital's COVID response plan) so I'm checking facts with her before I share them. (I'm the first one to lecture others if they share fake news!)
Message from the Ministry of Health, Uganda
The Ministry of Health requests the general public to call our toll free lines ☎ on 0800-100-066 or 0800-203-033 to report any suspected cases of Coronavirus Disease (COVID-19) to inquire information on COVIDー19.
The Muzungu: I called 0800-100-066 and was told that if you think you have been exposed to Coronavirus, you should attend one of the screening centres. These are China Uganda Friendship Naguru and Entebbe Grade B Hospital. Corona Virus screening is free of charge.
Further reading about the Corona Virus in Uganda
Visit the Coronavirus disease (COVID-19) outbreak website for information and guidance from WHO (World Health Organization) regarding the current outbreak of coronavirus disease (COVID-19). Page updated daily. It has facts, statistics and practical videos. I have learned a LOT from visiting this site. It includes advice on common questions like:
When and how to use masks
Myth busters such as
How effective are thermal scanners in detecting people infected with the new coronavirus? (They only detect a fever. You may have the virus but not be exhibiting fever yet).
Can spraying alcohol or chlorine all over your body kill the new coronavirus? (In summary, no).
Are antibiotics effective in preventing and treating the new coronavirus? (No Uganda, antibiotics do not work against viruses, only bacteria).
Are there any specific medicines to prevent or treat the new coronavirus? (In summary, no. Try not to get it, relieve symptoms, don't spread the virus).
Getting your workplace ready for Corona Virus. This pdf document addresses questions such as:
1. Simple ways to prevent the spread of COVID-19 in your workplace
2. How to manage COVID-19 risks when organizing meetings & events
3. Things to consider when you and your employees travel
4. Getting your workplace ready in case COVID-19 arrives in your community.
UNICEF Uganda has similar information:
Coronavirus (COVID-19): What you need to know and learn. How to protect yourself and your loved ones.
This short video is aimed at parents
How a country serious about coronavirus does testing and quarantine.
James Onen shared the interview below on Twitter. (Ignore the US context, listen to his advice). One huge advantage Uganda has is our experience managing - and preventing - Ebola.
WHO Director-General's opening remarks at the media briefing on COVID-19 - 11 March 2020
"All countries can still change the course of this pandemic.
If countries detect, test, treat, isolate, trace, and mobilize their people in the response, those with a handful of cases can prevent those cases becoming clusters, and those clusters becoming community transmission.
All countries must strike a fine balance between protecting health, minimizing economic and social disruption, and respecting human rights.
This is not just a public health crisis, it is a crisis that will touch every sector - so every sector and every individual must be involved in the fight."
The world is watching Covid-19 and learning a new word: zoonotic disease. What's going on?
Read Preventing Disease Outbreaks: Lessons From Uganda, an interview with "Conservationist, veterinarian, epidemiologist, and health worker in the villages near wild habitat, Dr. Gladys Kalema-Zikusoka is an advocate for the well-being of both people and animals. She is teaching Ugandans how to achieve wildlife conservation through public health and prevent disease outbreaks. We asked Gladys for insights into the current novel coronavirus pandemic and how we can prevent future outbreaks."
Which resources about Corona Virus are you finding useful? Please share any useful links. I'll be updating this blog regularly. Type a comment here or Contact me directly.
Keep safe dear readers. This will pass.