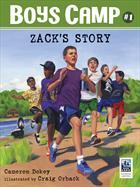 Title Boys Camp: Book 1: Zack's Story

Author Cameron Dokey, Craig Orback (Illustrated by)

Publisher Sky Pony Press

ISBN 9781620875285

Pub Date June 4, 2013

Category Juvenile,Camping, 4 Stars, Boys Camp, Fiction,
Summary:
The first book in an exciting new series for boys about summer camp, leadership, friendship, and above all, fun! So, Zack Wilson thought, almost laughing at himself. I've been at Camp Wolf Trail, what? Ten minutes? And already I'm having an adventure. At last! Being at Camp Wolf Trail is a dream come true for city boy Zack. Finally, he'll have the summer full of wilderness backpacking, rock climbing, canoeing, whitewater rafting, challenge, friendship, and fun of which he's always dreamed. But nature has surprises in store for Zack: animals, weather, and even the earth itself don't behave he way he expects them to, and especially not the way his favorite book, The Outdoor Adventure Guide, has described them. After Zack makes a mistake that nearly costs him the friendship and trust of his cabinmates, he loses confidence in his book—and in himself too. When a scary catastrophe happens, and Zack is faced with life-threatening danger, will he have the courage and problem-solving smarts to lead his friends to safety? With humor, honesty, and a deep appreciation of boys and wilderness, author Cameron Dokey and illustrator Craig Orback capture readers' curiosity in this rollicking first Boys Camp story of adventure and bravery, Zack's Story.
My Thoughts:
This is a fun book, one that young teens will really enjoy. It also would be a good read for a younger person who's going off to camp for the first time. To get a glimpse of what really could happen at camp. The kids are very realistic, and Zack learns how to turn a bad day at camp into something good. That when you make a mistake that doesn't mean all your new friends will write you off and never be friends again. Zack learned what he needed to do to apologize for his mistake and make it up to his new friends. And since at some point most people are going to make mistakes this give younger readers another glimpse of what they could do to fix things.
Over All Rating: 4 / 5 Stars  
Disclosure: This book was provided to me by the publisher via Edelweiss. The rating, review, and all opinions are my own