Looking for a cardio machine for killer HIIT workouts, small footprint, and interactive workouts? In this review of the Bowflex Max Total 16, we look at the pros, cons, and why it just might be the best elliptical and stepper combo on the planet.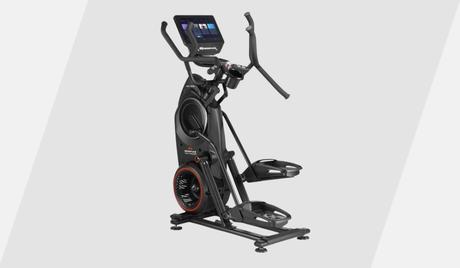 The Cons
Bowflex Max Total 16 vs Other Bowflex Max Total Ellipticals
Bowflex Max Total 16 vs ProForm Pro HIIT H14
The Bottom Line
The Bowflex Max Total 16 is the best and most feature-rich elliptical and stepper combo on the market. 
It has the biggest screen available (a whopping 16" large), a compact footprint, and is an excellent machine for more experienced users who want the challenge of an elliptical and a stepper.
The Max Total 16 is also compatible with JRNY, Bowflex's extensive library of workouts and trainer-led classes, and comes with a 12-month subscription. 
In this review of the Max Total 16, we are going to take it for a spin, list the pros and cons of the machine, and line it up against some competitors.
By the time the flywheel on the Max Total 16 stops spinning, you will have a crystal-clear idea of whether the elliptical + stepper combo is the right one for you. 
Let's jump right in. 
Bowflex Max Total 16 – Key Specs
Price: $2,199
Screen: 16" HD touchscreen
Online programming: JRNY (12-months free with the machine)
Resistance levels: 20
Machine weight: 155lbs
Max user weight: 300lbs
Handles: Multi-grip arms and stationary handles
Footprint: 49.3" x 30.8" 
Bowflex Max Total 16 – The Pros
Alrighty, let's get right into the things that make the Max Total 16 such a first-rate choice for home gyms:
That big screen! 
The screen on the Max Total 16 is huge–in the words of Buddy the Elf, ginormous–and is the biggest screen on the market. 
The screen is also adjustable, so if you are extra tall, or extra short, and want to tilt the screen for better viewing, the Max Total 16 can handle it. 
How you decide to use the large screen is up to you. 
One option is to stream or listen to your favorite digital content through Netflix, Spotify, Hulu, Prime, and others. And if online classes and immersive programming are your thing, this screen is perfect. 
Speaking of immersive programming…
Awesome for classes. 
The Bowflex Max Total 16 is made for online classes and workouts. If you are the kind of person who loves this form of training, you are going to love the 16 and the online training portal JRNY.
I've seen firsthand how much of a difference it can make having the accountability of a personal trainer working with someone.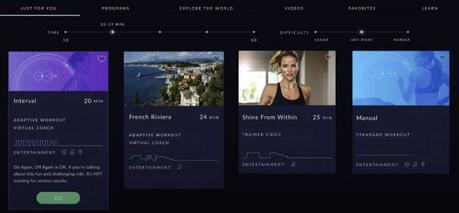 While JRNY isn't in-person, it's the next best thing. When you have someone coaching and cheering you on, it makes completing those grinding intervals a little easier. 
JRNY includes:
Training journal with your workout history and more workout data than you can throw a sweaty shoe at
Adaptive workouts
Stream your favorite media channels (Netflix, Hulu, Prime, etc)
Music playlists with a virtual coach
Explore the World – stride different locales around the world
Trainer-led classes
And more. 
12-month JRNY membership included
The JRNY app itself is pretty awesome. But what is not awesome is the recurring fees that come with subscribing to fitness apps like this. 
The Bowflex Max Total 16 comes with 12 months of access to JRNY, which is much more than what other elliptical machines come with. 
Here's a comparison to give you an idea of what I mean:
Sole Fitness's online programming, STUDIO, costs $19.99 per month and none of their elliptical trainers come with a free trial.
NordicTrack and ProForm both use the iFIT platform, which costs $39 per month. Both brands include just one free month of iFit with their ellipticals.
The JRNY membership, on the other hand, costs $19.99 and you get a full year of access ($239.88 value) with the Max Trainer 16.
Compact footprint. 
The benefits of elliptical trainers are legit–low impact, versatile, a full-body workout–but something that is not-so-awesome is how much space they take. 
Ellipticals, particularly front and rear drive ellipticals, take up a lot of space, particularly length. Some of the best elliptical machines for home gyms can take up to 85" in length.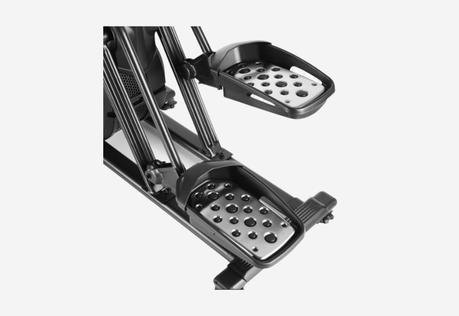 The Bowflex Max Trainer Total 16 is an assassin when it comes to saving space. 
Lengthwise, it's just 49.3" long (20-30" less than a standard elliptical), which great news for people who want a killer elliptical trainer without requiring half-a-bedroom or a full parking spot in the garage to use it. 
Built for hardcore interval workouts.
The Bowflex Max Total 16 isn't a pure elliptical. And it isn't a stepper. 
Instead, it incorporates the best of both machines into a compact, calorie-busting machine. You get the low-impact nature and elliptical stride path of an elliptical machine with the horizontal challenge of a stepper. 
The result is a low-impact and challenging workout that will set your metabolism on fire and help you speed your way towards your weight loss and fitness goals. 
Bowflex Max Total 16 – The Cons
While the Bowflex Max Total 16 is an excellent machine for people who love HIIT and doing online classes, there are some users that this machine is not for.
They include:
Not a great choice for people with bad knees.
Ellipticals are great for people with bad knees. Why? Because ellipticals promote a natural striding motion, generate minimal impact, and many have ergonomic foot pedals that allow you to strengthen the muscles around your knees. 
But these benefits largely go out the window with excessive incline or when using an elliptical-stepper hybrid like Max Total 16. 
People with pre-existing knee injuries will find that placing more pressure on the muscles around the knee–especially the quads–can run the risk of exacerbating knee injuries. 
While I love the Max Total 16 for its overall effectiveness for building leg muscle, using a flat and horizontal stride path is a better option for people with bad knees.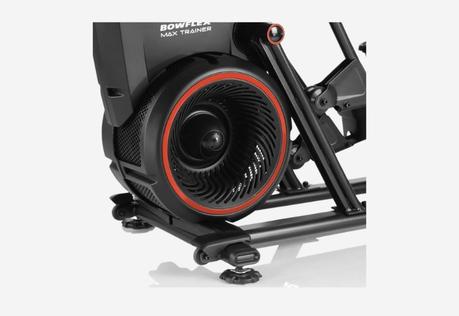 Might be too difficult for beginners. 
Elliptical and steppers are a harder workout compared to a standard elliptical trainer. The added elevation in the stride path is more difficult and beginners or people who are just getting started with their fitness journey. 
If you really want the immersive training experience with the big screen, there are some excellent "regular" elliptical machines on the market, including:
NordicTrack Commercial 14.9 Elliptical – NordicTrack's best standard elliptical, it has a 14" HD screen that hooks up to iFit. The NordicTrack Commercial 14.9 Elliptical is also an absolute tank with a 32lb flywheel and a power incline for when you are ready to make your workouts more difficult. The Commercial 14.9 retails for $1,499, about $700 cheaper than the Max Trainer Total 16.
ProForm Carbon E10 – While the screen isn't quite as large, the ProForm Carbon E10 has a 10" touchscreen, 19" adjustable power stride, and a 25lb flywheel. The E10 also includes a 3-year iFit subscription, which compounds into big savings long-term. The E10 retails for $1,400 at ProForm's official website.
Short warranty on the frame. 
With elliptical trainers, and any other kind of cardio machine for that matter, you want peace of mind when hitting "add to cart." Elliptical machines are complex machines, with heaps of electronics, motors, rails, and other moving parts. 
A long warranty is crucial to make sure that you get the most of your investment. 
While most elliptical machine companies provide a 10-year to lifetime warranty on the frame, Bowflex covers the frame on the Total 16 for just three years. 
Parts are also three years, electronics is one year, and labor is only covered for 90 days. 
It could be argued that something is better than nothing, but these timeframes are below the industry average. Sole Fitness ellipticals, for example, warranty their frames for life. 
Bowflex Max Total 16 vs Other Bowflex Max Total Ellipticals
The Max Total is the most feature-rich machine in the Max Trainer line. 
Other editions include an entry-level model, the M6, and a middle sibling, the Bowflex Max Trainer 9. 
Here is how the three machines stack up against one another in terms of key features: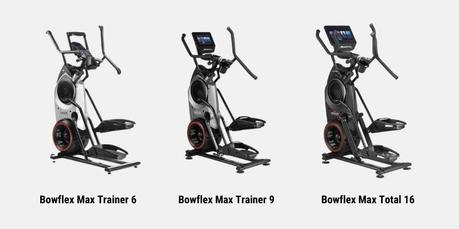 M6M9M16
Price$1,499$1,699$2,199
Screen5" backlit LCD10" HD touchscreen16" HD touchscreen
Machine Weight148lb148lb155lb
Max User Weight300lb300lb300lb
JRNY Membership12-month free trial 12-month free trial 12-month free trial 
Resistance Levels162020
Bowflex Max Total 16 vs ProForm Pro HIIT H14
The ProForm Pro HIIT H14 is a worthy competitor to the Max Total 16. 
Although it doesn't have quite the same size screen (14" vs 16"), it is as stable as the Max Total 16 with a 30lb flywheel, has more resistance levels, and has a much better warranty in regards to the frame and labor.
The Pro HIIT H14 is also significantly cheaper upfront (by $400) and comes with a three-year family membership to iFit. 
Here is how the two machines stack up against one another: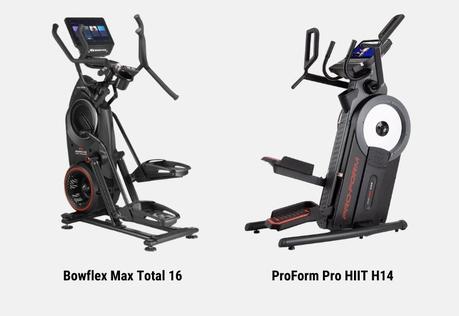 Max Total 16Pro HIIT H14
Price$2,199$1,799
Footprint49.3" x 30.8"52" x 29"
Screen16"14"
Fitness AppJRNY (12 months included)iFit (36-months included)
Machine Weight155lb224lb
Max User Weight300lb325lb
Resistance Levels2026
Warranty
Frame3 years10 years
Parts3 years2 years
Labor90 days1 year
The Bottom Line
The Bowflex Max Total 16 is a beast of a machine.
The size of the screen speaks for itself–a massive 16″–and a year-long subscription to JRNY means you will have heaps of workouts, classes, and challenges to keep you motivated and focused long after the initial surge of motivation passes when you step onto it the first time.
To recap:

PROS

CONS
Huge 16" HD screen Frame warranty is below industry standards
12-months of online workouts and trainer-led classes via JRNY appNot ideal for beginners or people with knee issues
Awesome for interval training
Compact footprint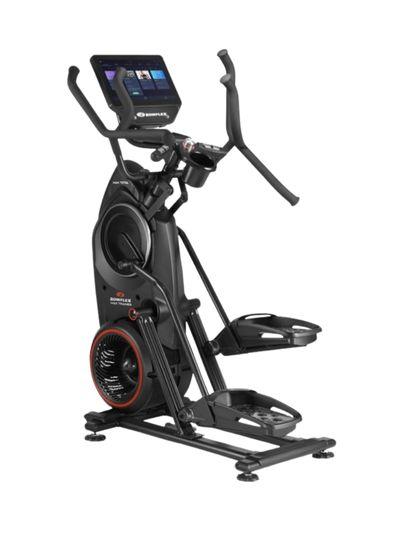 Bowflex Max Total 16 Elliptical + Stepper Machine
+ Huge, 16" HD touchscreen
+ 12-month JRNY subscription
+ Perfect for HIIT classes
+ Heavy flywheel for a sturdy ride
Shop Now @ Bowflex
---
More Elliptical Guides Like This
The Different Types of Elliptical Machines (Pros and Cons of Each). The elliptical machine is one of the best tools for achieving your weight loss goals. Here's a look at each type of elliptical machine, including the pros and cons of each, so that you can use the right one for you and your training goals.
How Much Do Ellipticals Cost? (44 Different Models Compared). Ellipticals can be a costly investment in your workout goals. Here is a look at how much each type of elliptical costs and how much to spend on one.