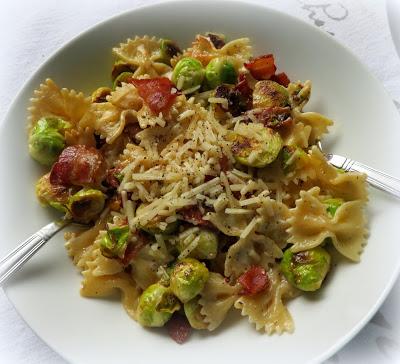 The recipe I am sharing today is one I have been eye-balling for a while.  I adore pasta, however my husband doesn't.  He just tolerates it.  I only treat myself to it once in a while.  Today was a pasta day.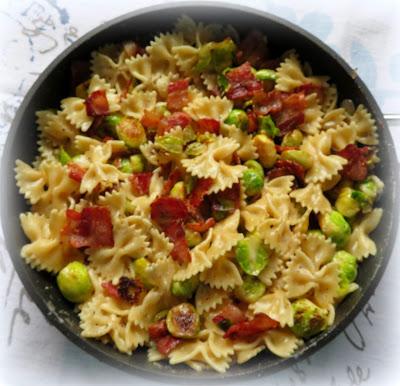 Don't worry I made something else for him this time, as sprouts are not his favorite thing either.   Pasta, sprouts and bacon are three of my absolute favorite things, so I was in heaven.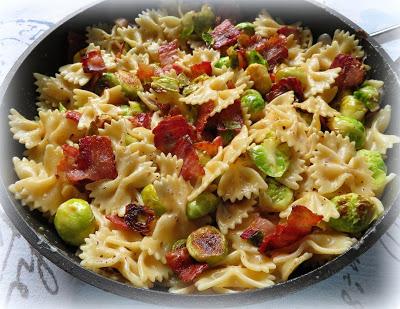 The recipe was adapted from the cookery book entitled "The Weeknight Dinner Cookbook" by Mary Younkin.  I highly recommend this book.  Almost every recipe in it is a "must cook" recipe!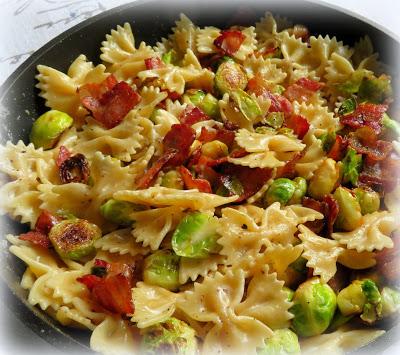 Its a very simple recipe and goes together really quickly if you have all of your ingredients prepped and ready to go.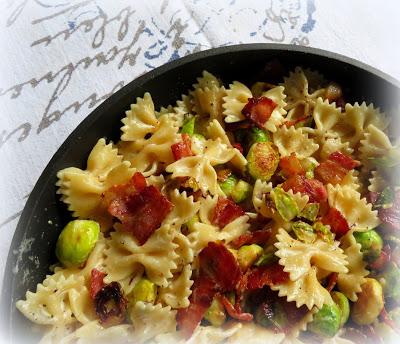 While the pasta is cooking, you saute the bacon until your desired crispness in a large skillet.  She only cooks if for a few minutes before adding the prepared sprouts.  I felt the bacon would get too crisp doing this, so I cooked the bacon first, scooped it out and then cooked the sprouts in the bacon fat, again scooping them out when they were to my desired doneness.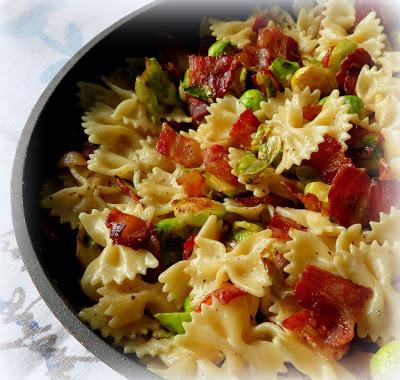 I liked how they got come caramelised edges . . .  caramelising brings out the natural sweetness in any vegetable.  Don't over-cook the sprouts.  They should be crispy tender, achieving an almost nutty flavor and texture.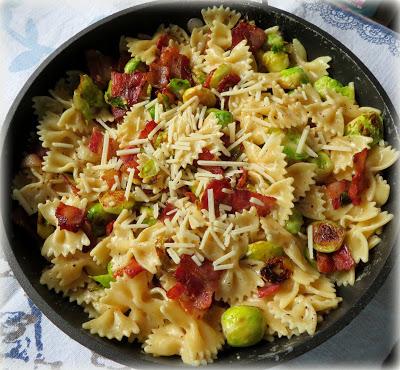 You then want to drain most of the bacon fat from the skillet (your pasta will be cooking in lightly salted water while you are doing this.)  You add some of the pasta water and deglaze the pan, scraping up any sticky salty bacon bits . . .  letting it bubble up . . .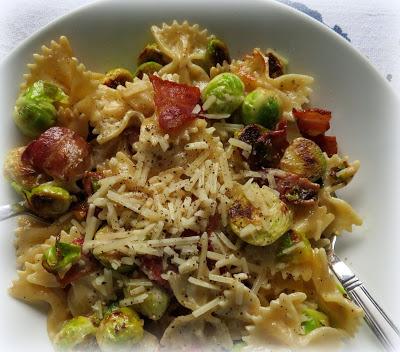 And then you add some cream to make a sauce . . .  seasoning it with some sea salt and black pepper.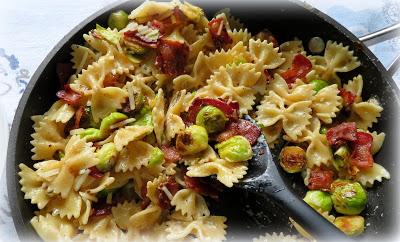 Its a light sauce, but rich . . .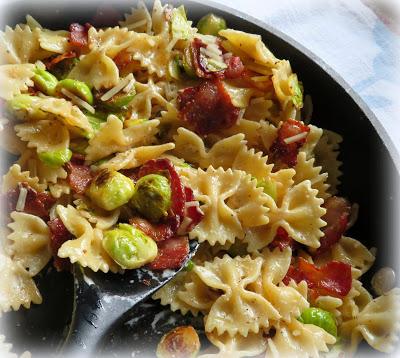 All you need to do then, is to stir in your well drained cooked pasta, that crisp salty bacon and those nutty crispy-tender sprouts!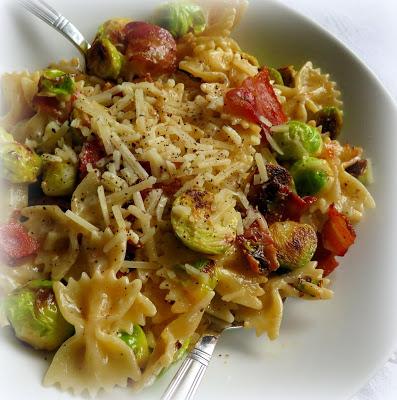 Mmmm . . .  so tasty with a smattering of Parmesan cheese scattered over top.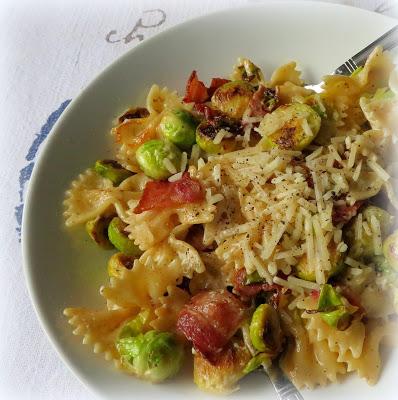 If sprouts are not your thing, you could use another green vegetable  . . .  I think broccoli would work well, or tenderstem broccoli . . .  asparagus and peas, etc.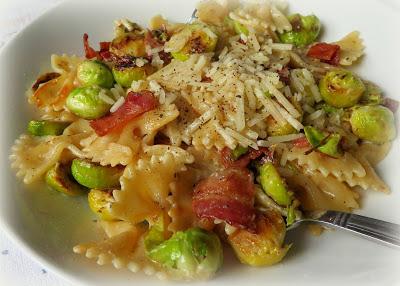 This was really, really, REALLY good! 
Yield: 3 - 4
Author: Marie Rayner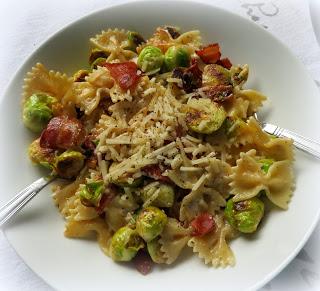 Bow Tie Pasta with Sprouts & Bacon
prep time: 5 mins
cook time: 15 mins
total time: 20 mins
With its rich creamy sauce, smoky bacon flavours and crispy tender sprouts this is a pasta dish that goes down a real treat. Quick and easy too!
ingredients:
150g streaky bacon, cut into 1/2 inch strips (about 6 slices)
450g Brussels Sprouts, trimmed and halved (1 pound)
225g farfalle (bow tie) pasta (8 ounces)
120ml double cream (1/2 cup)
fine sea salt and freshly ground black pepper to taste
60g shredded Parmesan Cheese (1/2 cup)
instructions:
Bring a large saucepan of lightly salted water to the boil.  
While you are doing this, add the bacon to a large skillet and cook until golden brown. Scoop out and set aside. Add the sprouts to the pan and then pop the pasta into the boiling water to cook al dente, according to package instructions. 
Cook the sprouts, stirring occasionally until crispy tender.  Scoop out and set aside. 
Drain all but about 1 tsp of the bacon fat from the skillet and discard.  Place the skillet back over medium heat.  Add 120ml/ 1/2 cup of the cooking pasta water to the pan and stir to deglaze the pan and scrape up any browned bits.  Add the cream, salt and pepper, stirring to combine.  Simmer for several minutes, until it begins to thicken.  Remove from heat and keep warm. 
By this time the pasta should be done  all dente. Drain well and add to the sauce in the skillet.  Stir in the sprouts and bacon to combine.  Reheat gently until well heated through.  Taste and adjust seasoning as required.  Serve hot, sprinkled with the cheese.
Created using
The Recipes Generator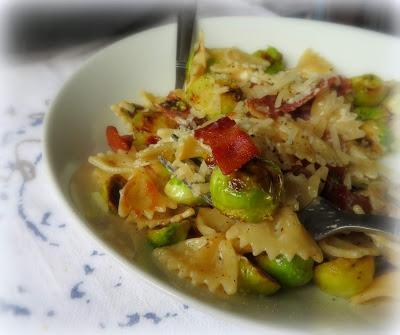 Quick, easy and delicious always works for me!