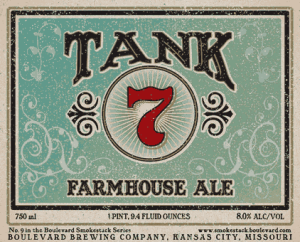 Boulevard Brewing has been in the news a lot lately after they broke the news that they were accepting a buyout offer from Belgian brewing giant, Duvel Moortgat, producer of the famed Belgian blonde ale, Duvel.  As was to be expected, reactions were mixed ranging from excitement from Duvel fans to dread from Boulevard fans who were afraid they were going to lose their local brewery.
While no one knows what the future will hold for the partnership, the Moortgat family's past acquisitions have prospered and expanded while maintaining or improving the quality the products.  Americans are familiar with Brewery Ommegang, another American brewery acquired by Duvel Moortgat, which is has grown and expanded while maintaining their well-respected quality.  Duvel Moortgat also owns several Belgian breweries and has stewarded them to a better place.  My favorite, which used  to be a rare, hard to find delicacy, is Brasserie D'Achouffe.  Now you can find them more readily in bottle shops and have even begun offering multiple varieties in 11.2oz bottles.
I'm hopeful that Duvel Moortgat's acquisition of Boulevard will stay true to form and be a positive point in Boulevard's history which will usher in a new era where they continue to grow while respecting quality.  Duvel Moortgat has continued growing and expanding while keeping quality first and foremost.  This also holds true for the breweries they buy.
Tank 7 Farmhouse Ale is part of Boulevard's Smokestack series which is their higher end specialty beer series.  The hope is that Duvel Moortgat will continue to grow and expand this specialty series so they become more readily available to everyone.
Appearance: Bright blonde with a touch of haze towards the end of the bottle, white head and good retention.
Aroma: Pineapple, light pepper, fruity esters, spicy phenols, light graininess.
Taste: Grainy bite, tropical fruit with a long spicy finish.
Overall Impression: The Tank 7 is an excellent American version of a Saison.  It's a bit grainier than a Belgian version, but certainly a fine homage to the style.  This one is an especially nice bargain in the 12oz bottle.
Availability: Year round in good beer shops and occasionally on draft.
8.5% ABV
Notes: You can read the letter from Boulevard's founder, John McDonald, about the decision to sell to Duvel Moortgat here.