Pair tapas with an excellent bottle of  Rioja Wine and you've got a #MatchMadeInHeaven!
I am a big fan of tapas and small plates. One of my favorite memories of visiting Spain was the incredible bites served in the Spanish bars along with great wines by the glass. Tapas are basically snacks, appetizers or canapés, where just one can satisfy or several can become a flavor fest and a meal. In Spain, dinner is typically served from 9 to 11 p.m. leaving significant time between work and dinner. Therefore, Spaniards often go "bar hopping" and eat tapas in the time between. I prefer eating several tapas paired with a nice Spanish wine as a main meal, a match made in heaven!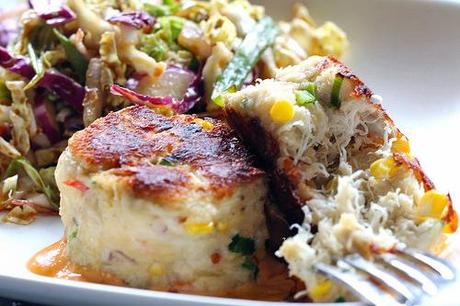 Tapas Menu-Crab Cakes at Crush 30A by: Susan Benton
In seeking a Spanish wine, look for Rioja. The wines are chosen as the best in food pairing by many chefs around the world. They are ready to drink and tend to have a lower alcohol content and acidity so they enhance the flavor of the food. What I also like is that you can choose a white, rose' or red, as Rioja wines pair perfectly with any food served. Just make sure to look for the "Denominación de Origen Calificada" or DOCa seal. This ensures that each vineyard meets the strict qualifications required to be authentic Rioja.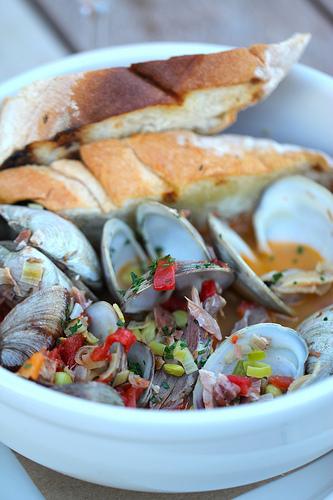 Steamed Clams by: Susan Benton
I'm working with Honest Cooking again sharing a tapas recipe paired with Rioja wine. The price point on Rioja's are great and I picked up a bottle of Marqués De Riscal Reserva 2007 for under $25.00 at Richey's in Pensacola. It was garnet in color with hints of cedar, plum, anise, chocolate, sandalwood and spice on the nose with matching flavor and a long finish. A superb choice with any tapas, especially grilled meats like this grilled pulled pork slider by my friend Matt.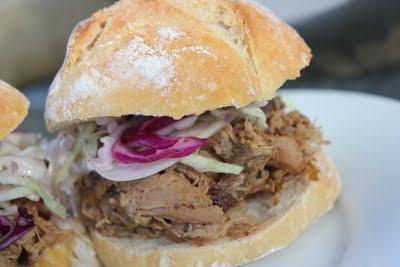 Pulled Pork Slider with Slaw by friend: Matt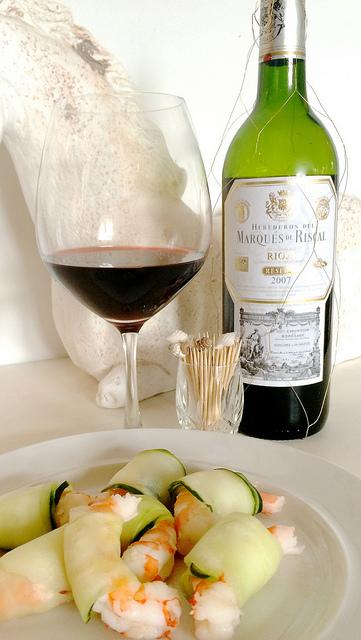 Easy feta-stuffed and cucumber wrapped Gulf shrimp by: Susan Benton
With Louisiana in my blood, I'm all about boudin, and love boudin balls. Personally, I think they are the perfect two bite snack for any cocktail party or barbecue, and pair very well with the Rioja!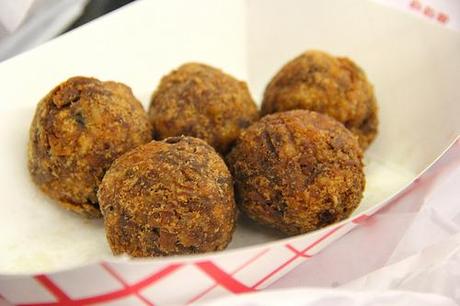 Boudin Balls by: Susan Benton
Boudin Balls
Serves 8
Ingredients
2 lbs pork shoulder
½ lbs fresh pork liver
1 Spanish onion, diced
2 celery stalks, diced
1 jalapeño, seeded and minced
6 cloves of garlic, crushed and chopped
3 tbsp cayenne
1 tbsp onion powder
1 tbsp garlic powder
1 tbsp ground black pepper
32 oz chicken stock
7 cups cooked white rice
1 cup fresh parsley, chopped
1 cup fresh scallions, shaved
2 cups panko or dry bread crumbs
Vegetable oil
Directions
Combine the pork shoulder, liver, onion, celery, jalapeno, garlic, cayenne, onion powder, garlic powder and black pepper in a bowl and marinate for 24 hrs.
Place mixture in a pot and cover with stock and cook until meat is tender for about 1 hour 45 minutes.
Strain mixture and reserve liquid.  Grind mix with a food processor and place in a bowl.
Mix in the cooked rice, parsley, scallions and reserved cooking liquid.  Stir vigorously for 5 minutes.
Cool mixture in the refrigerator for at least half an hour. Then roll into spheres the size of golf balls, bread with panko, and fry in enough vegetable oil so that they are completely submerged.
Remove when golden brown and cooked through. Let excess oil drain off for a few minutes on a rack and then serve. Garnish with fresh parsley.

http://adfarm.mediaplex.com/ad/ck/24812-179223-54893-0?mpt=[CACHEBUSTER]

Print