I made these cupcakes back in February and it took me this much time to post the recipe. Recipe is from '
the big book of Cupcakes'
 cookbook. The pictures were too tempting and the thought of having one of my favorite donut flavors in a cupcake was very exciting.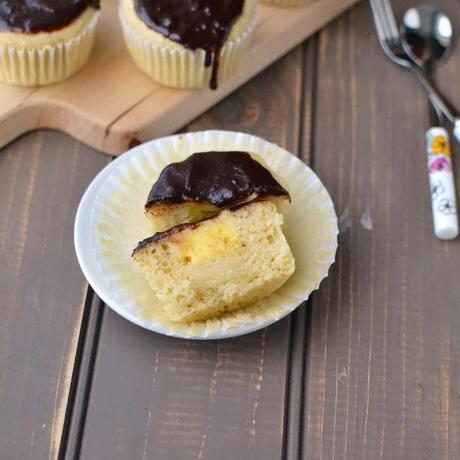 The creamy '
Boston Cream'
part of the cupcake is made vanilla instant pudding mix, which makes it quick and easy to make. I made my basic Vegan vanilla cupcakes recipe and then filled them with the custard and topped them with chocolate icing. These cupcakes were a big hit with both kids and adults.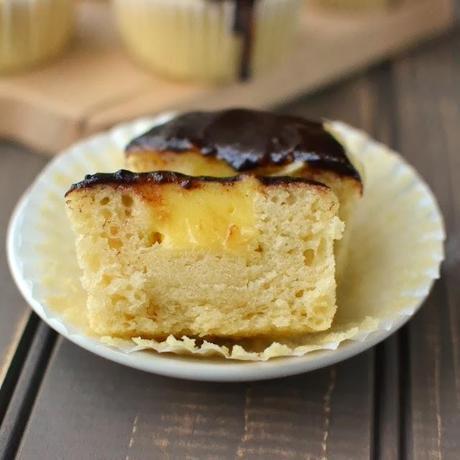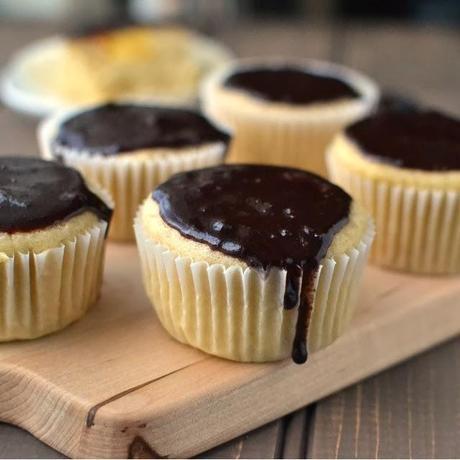 Ingredients
:
Makes 12 Cupcakes
For Vegan Vanilla Cupcakes
:
All purpose Flour - 1¼cups
Cornstarch - 2tbsp
Baking Powder - ¾tsp
Baking Soda - ½tsp
Salt - ½tsp
Soy Milk - 1cup
Apple cider Vinegar - 1tsp
Canola Oil - 1/3 cup
Sugar - ¾cup
Vanilla extract - 2tsp
For the Cream Filling & Chocolate Icing
:
Vanilla Instant Pudding & Pie filling mix - ½ of a 4oz. box
Milk - ¾cup+2tbsp
Butter - 3tbsp
Unsweetened Chocolate - 1oz.
Confectioners Sugar - ¾cup
Vanilla extract - ½tsp
Hot water - 3tbsp
Method
:
Make the Cupcakes: Preheat oven to 350°F and line muffin pan with cupcake liners.
Whisk soy milk and vinegar in a measuring cup and set aside for a few minutes to curdle.
Beat together the soy milk mixture, oil, sugar, vanilla in a large bowl. Sift in the flour, cornstarch, baking powder, baking soda and salt and mix until no big lumps remain.
Fill cupcake liners 2/3rds of the way full and bake for 20-22 minutes or until a toothpick inserted in the center comes out clean.
Transfer to a cooling rack and let them cool completely before filling and frosting.
Make & Fill the Pudding: Mix the pudding mix in cold milk. Whisk well until well combined. 
With the melon baller, scoop out the center of each cupcake, scooping almost to the bottom of cupcake, discard pieces.
Spoon about 2tsp pudding into center of the cupcake.
Make the Chocolate Icing: In a small saucepan, melt butter and chocolate over low heat, stirring occasionally. Stir in the powdered sugar and vanilla. Stir in hot water until smooth. Add more water, 1tsp at time, to get a smooth spreadable icing.
With a metal spatula or back of spoon, spread icing over the tops of cupcakes. Refrigerate uncovered until ready to serve. Leftovers can be refrigerated in an airtight container for 2~3 days.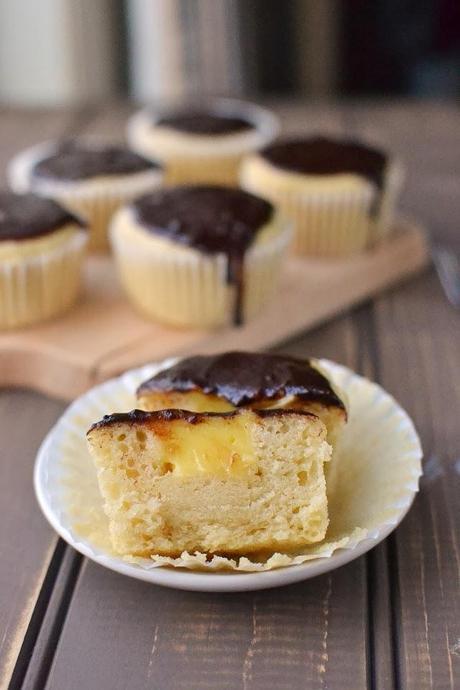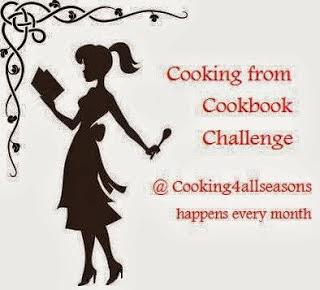 Linking this to Valli's '
Cooking from Cookbook Challenge: June -- Week 4'.