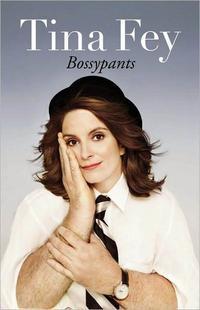 Tina Fey is awesome. This is not new information. She's hilarious, successful, and still dedicated to her family. Fey seems genuine and grounded, which is always nice to see in famous people, who I typically imagine snapping for servants on a beach in Cabo, drinking some sort of pink-colored beverage. I read her memoir (of life so far), Bossypants, like, as Mindy Kaling said, "a grown woman's Twilight" – before I knew it, it was 5 AM, I was giggling to myself surrounded by Diet Coke cans, and my roommate had her pillow over her face, attempting to block out the light from my lamp.
Aside from being insomnia-inducing, Bossypants has some awesome nuggets of genius-wisdom about growing up, womanhood, feminism, motherhood, and women in the workplace without feeling preachy or overdone. She knows that we should have a sense of humor about this stuff while still taking it seriously.
Just to give you guys a taste, I highlighted my four favorite quotes from the books that either made me literally laugh out loud or give a second thought to something I normally don't think about much (or both!).
At a seminar taught by the author of Queen Bees and Wannabees (the inspiration for Mean Girls), women were asked when they first felt like a grown woman and not a girl:
"Almost everyone first realized they were becoming a grown woman when some dude did something nasty to them…There were pretty much zero examples like 'I first knew I was a woman when my mother and father took me out to dinner to celebrate my success on the debate team.' It was mostly men yelling shit from cars. Are they a patrol sent out to let girls know they've crossed into puberty? If so, it's working…I was walking home alone from school and I was wearing a dress. A dude drove by and yelled 'Nice tits.' Embarassed and enraged, I screamed after him 'Suck my dick!' Sure, it didn't make any sense, but at least I didn't hold in my anger."
On men who claim "women aren't funny":
"Unless one of these men is my boss, it's irrelevant…When faced with sexism or ageism or lookism or even really aggressive Buddhism, ask yourself the following question: 'Is this person between me and what I want to do?' If the answer is no, ignore it and move on."
On the now-legendary sketch about Palin/Clinton:
"The sketch could have been a dumb catfight between two female candidates. What Seth and Amy wrote, however, was two women speaking out together against sexism in the campaign. In real life these women experienced different sides of the same sexism coin. People attempted to marginalize these women based on their gender. Amy's line 'Although it is never sexist to question female politicians' credentials' was basically the thesis statement for everything we did over the next six weeks. Not that anyone noticed. You all watched a sketch about feminism and you didn't even realize it because of all the jokes. It's like when Jessica Seinfeld puts spinach in kids' brownies. Suckers!"
You get the idea. Fey is not only a great writer and a gifted comedian, but a smart woman who understands the importance of feminism and enacting feminist change in our society. In short: she gets it. As someone who is interested in writing and writing for comedy, I was inspired by her story and how hard she works at a job she clearly loves so much. Her passion for comedy and writing is clear, and she acknowledges that this is her dream job, and is excellent at putting things in perspective. She knows how to make fun of herself without being self-hating, and how to make fun of everybody without being rude. She's amazingly talented, and everybody should read her book immediately for some inspiration, wisdom, insight, and most importantly, laugh-out-loud fun. Right now. What are you still doing reading this? Go get her book immediately. It's only $13.97 on Amazon.
Becka also writes for her own blog, Becka Tells All.