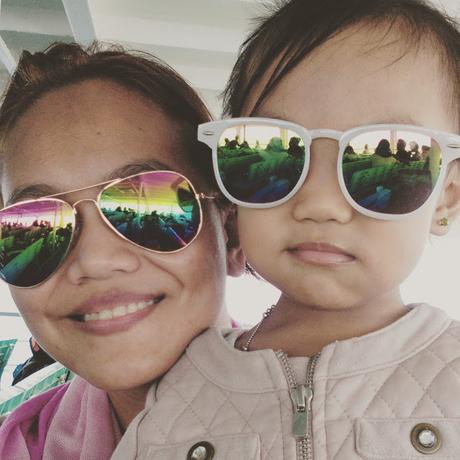 Woohoo! Finally, I'm getting my much needed vacation! Never would I have thought I could go to Boracay without months of planning. Much less go on a RORO Trip to the island with my daughter. But here we are, aboard the Montenegro Lines ferry, on the way to Caticlan. Isang tumbling nalang, paradise na. 
Just this Monday, my mom received a call from her friend asking if she wants to join them on their weekend trip to Boracay. They'll leave Thursday afternoon and will bring their van to drive from Manila to Caticlan through RORO. My mom had been taking care of Mila every night while I'm at work so she was hesitant because they'll leave Thursday and she could not leave her apo alone. 
Without much thinking , I told her sama nalang kami ni Mila. I already have a scheduled leave on Friday, with no real plans. I just need to ask for Thursday off. That night, I filed for an extra day off and Tuesday night, I got an approval. When I got home Wednesday morning, my mom told me they'll leave Thursday morning instead. Oh no! I still have work. I guess it's not meant to happen. No Boracay trip for the little girl. I though we could go to Tagaytay or Baguio instead. Our mom and daughter bonding! 
I got home Thursday morning expecting that my mom already left. Well, she waited for me and asked if  we'd like to follow. We could book a 2Go trip and our hotel room will be waiting for us. Oh YES! At 9am, all gears are set. Mila was so hyped and got her bathing suit on. I tried to book our tickets online for the 9pm trip from Batangas to Caticlan but the 2Go website was down. I started packing our bag. At 10am, I called 2Go to reserve our tickets. FULLY BOOKED until Saturday night! Bummer! 
I could not bear Mila's face when I told her we might not go to the beach after all. I never want to see her disappointed. My fingers went to work and I figured, we can do it! Airline tickets worth P5,000+ is out of the story. I don't have the extra cash for that now since I just paid my first investment for Mila's future. I found that the Penafrancia Bus Line has a direct RORO trip from Pasay. Called them and was told that all aircon buses are booked. We can take the ordinary bus instead for P1,000+ but my mom would die (she's asthmatic). Another roadblock. 
I would not be denied this vacation! Mila and I will get our first Boracay Trip now. I made the decision that an adventure is what we need! We will brave the uncertainties of a RORO travel, transferring from one vehicle to another until we get to see the beauty of Boracay. 
At 12pm, at was at Divisoria for some last minute shopping. 3pm, I was back home packing my bag. 5pm, we're out of the house, on our way to our adventure. With no reservations! 
Ps. Watch out for the next posts to see if we got to our destination (and how)! Wish us luck!