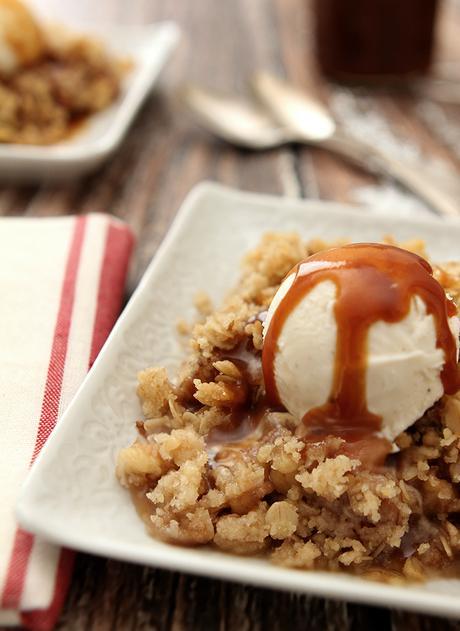 I've been making a different version of this Boozy Apple Crisp for way more years than I like to count. 'Pike's Peak Spiked Apple Crisp' has been a favorite for a very long time; since my girls were young and we had a lot apples from the one apple tree in my yard. When that tree started to bear fruit I could not give away enough apples but I could sure get a lot of folks to come over for Apple Crisp!
Fast forward and I thought it was time for a redo. The photos are iffy at best and beyond that; it's just so dang good and I wanted to have my lovely neighbors over for dessert on a lovely fall afternoon. Fall meaning yesterday...I've been keeping track because while my mantra of 'It's not over til it's over' really came into being to fight the glut of 'pumpkin everything' in August, the fact is that I start to bite at the bit for 'everything apple.' I like raw apples OK; especially with a dollop of peanut butter on them or in a great apple salad but nothing compares to a fall treat that includes some apples, some brown sugar, some cinnamon, and in my ever present state of what can I do with all this booze in the house...some bourbon!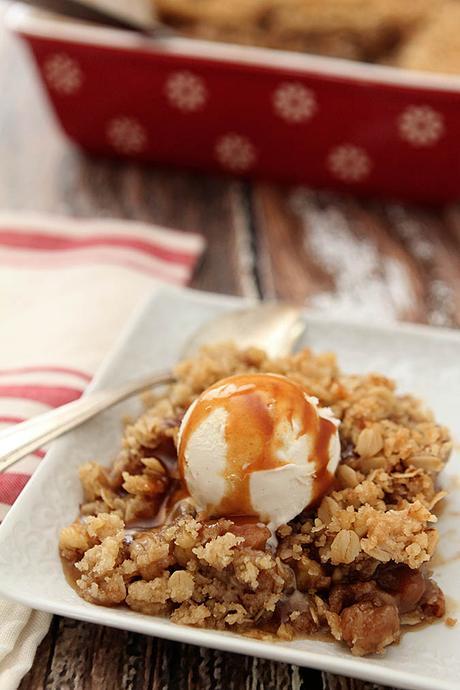 So I left the 'old girl' alone and did a new twist. Bourbon, brown sugar, a hint of molasses and some oatmeal in the topping for a bit more substance and now the she has a new bestie. Topped with vanilla ice cream and some Salted Caramel Sauce with Bourbon (last minute decision and yes, I'll post next week!) and this one was a winner. I love them both but if I had to choose? Really? I can't. One has a bit more zest and that citrus zing is so good and this one is definitely richer with both molasses and bourbon but both are favorites. I can't choose one kid over the other!
This one truly is divine though and a nice addition to your fall dessert table. I know it's absolutely sacrilegious for some, but I make apple crisp easy...I don't peel. Nope; not a peeler. Which means it comes together pretty quick. I actually have one of those apple peeler slicer things but I quit using it for this; the slices are SO thin that the apples got overdone while waiting for the topping to brown. So I punted and gave myself permission to skip the peeling and just slice away! Not one person had stood up and had a fit, refusing to eat this dessert so it seems to have been a wise decision. Try it, unless of course peeling apples is your jam! By the way, this is my day to share with The Food Network and if you haven't guessed, our theme this week is apples. Be sure to check out my friends take on the mighty apple after the recipe; everything sounds delicious!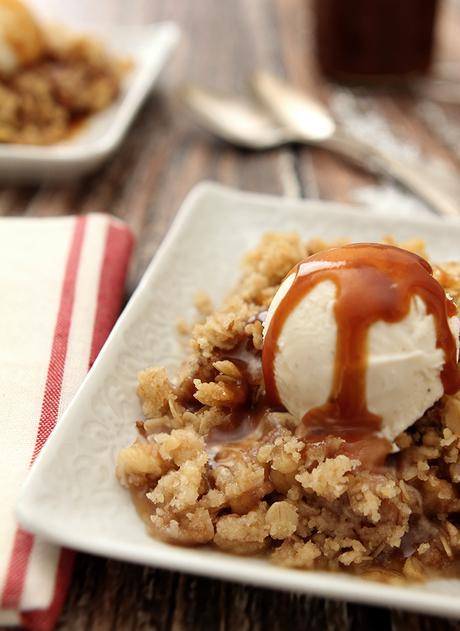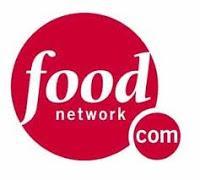 The Lemon Bowl: Sparkling Apple Cider Punch
Creative Culinary: Boozy Apple Crisp
Homemade Delish: Apple Chips
Healthy Eats: 6 Healthy Treats to Make After Apple Picking
Daisy at Home: Fall Farmer's Market Salad
Virtually Homemade: Gluten-Free Salted Caramel Apple Bars
TasteBook: Caramel Baked Apples with Cinnamon-Oat Crumble
Napa Farmhouse 1885: "Grownup" Caramel Apples
Red or Green: Caramel Apple Spiced Shortcakes
Big Girls, Small Kitchen: Whole Grain Oat & Millet Pancakes with Shaved Apples
Domesticate Me: Roast Chicken, Apple and Brie Grilled Cheese
Taste with the Eyes: Classic Apple Tarte Tatin with Cognac and Crème Fraîche
FN Dish: Quickest, Easiest Apple Dessert Recipes