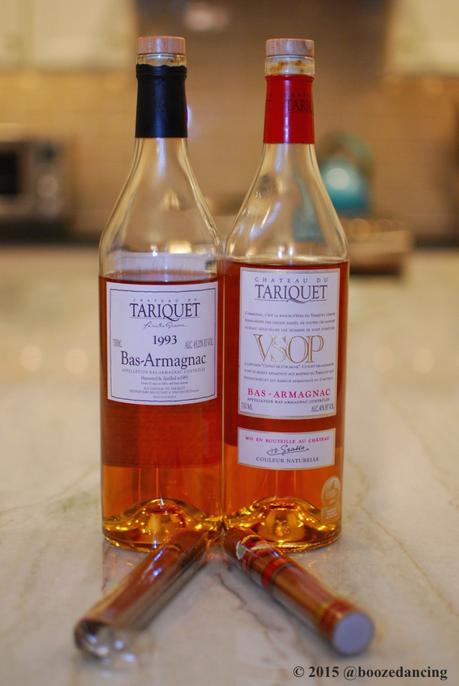 Once again, I walked out to the mail box and found that the utility companies still want to be paid for services. G-LO on the other hand found two bottles of Bas-Armagnac. I must live on the wrong block, or maybe the postman is a little sweet on G-LO. Either way, he texted a photo of the spoils and suggested that we branch out a bit and try some Armagnac.
As luck would have it, The Benevolents ( The Khmer Rouge (aka Mrs. G-LO) and Benita (aka My Better Half)) had an evening out so G-LO and I were left to "parent" our urchins. I placed parent in quotes because we are not exactly hands-on when it comes to parenting. We use more of a free range approach and so far, it's worked pretty well. So while the boys were off entertaining themselves, G-LO brought over two bottles of Bas-Armagnac from Château du Tariquet (the VSOP and the 1993 Vintage). Not familiar with the brand, I did a quick search of the interwebz and discovered the following fascinating facts:
The estate was purchased using monies earned by a traveling bear act. It seems that one of the original French owners got his start taming bears, brought his talents (and his bears) to New York and made enough money (with a contribution from his son) to purchase the Tariquet estate.
Over the next hundred years, the vineyard was transformed into a first rate producer of Bas-Armagnac and white wines.
Château du Tariquet's Bas-Armagnac is made with a blend of 60% Ugni-blanc grapes to 40% Baco blanc grapes. The Ugni-blanc variety provides a high yield, with a fresh and fruity flavor while the Baco blanc, lacking a bit in terms of flavor, has a tendency to age quickly. Thus, by blending the two varieties, Château du Tariquet is able to produce a flavorful brandy.
The VSOP (Very Superior Old Pale) is aged in oak barrels for at least 7 years. With the 1993 Vintage, the name refers to the vintage year that corresponds to the year the grapes were harvested.
Now that we know a bit about Château du Tariquet, let's get on with our reviews...
_______________________________________________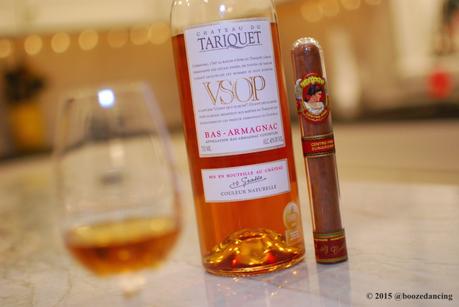 VSOP
Here's what Château du Tariquet has to say about the VSOP ...
A beautiful shade of amber. A strong prune bouquet with a wealth of concentrated aromas, the suggestion of freshly baked bread and a touch of toast and gingerbread. Aeration reveals superb aromas of baking bread, rancio and candied fruit. So smooth and well-rounded on the palate that there is only the flavour of fine oaky vanilla, with no trace of alcohol. Good length with a hint of macerated stone fruit on the finish.
And here are our impressions...
Appearance: Golden amber
ABV: 40%
_______________________________________________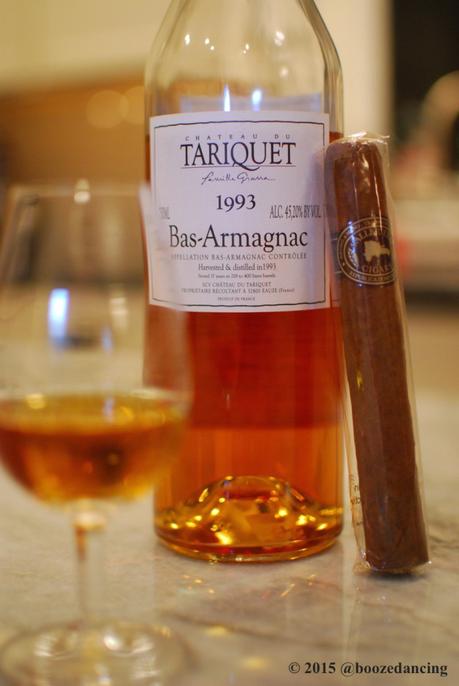 1993 Vintage
Here's what Château du Tariquet has to say about the 1993 Vintage ...
Beautiful shade of pale oak. Ripe nose, a genuine expression of the vine, reminiscent of brown sugar with spicy undertones. Aeration reveals liquorice, pleasant suggestions of earthy undergrowth and cocoa bean aromas. A bold, lively palate at entry gives way to well-structured, noble tannins. The finish is more unpredictable, with a distinctive touch of nutmeg.
And here's what we thought of it...
Appearance: Golden amber (maybe a shade darker than the VSOP)
ABV: 45.2%
The Verdict
Limpd: I thought the VSOP was very nice but the 1993 was better. The 1993 approached a Speyside whisky in the flavor profile but with a decidedly different finish.
G-LO: I'm not very experienced with Armagnac, but I definitely like the VSOP as it would make a fine accompaniment to a fresh fruit tart. While the VSOP was quite enjoyable, the 1993 was more to my liking thanks to the peppery flavors and higher octane. Definitely a delicious change of pace.
_____________________________________________________
Categories: Booze Review, Chateau Du Tariquet
Tagged as: Armagnac, Bas Armagnac, booze, Boozeography, Brandy, Château du Tariquet, Drinkwire, French, Millésime 1993, Review, Reviews, Spirits, VSOP