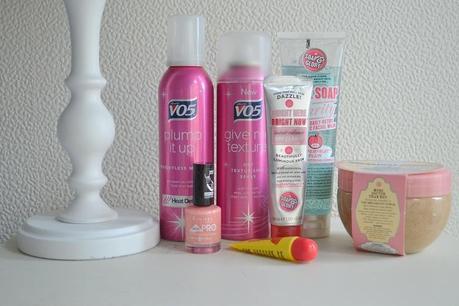 Soap & Glory Face Soap and Clarity 3-In-1 Daily-Detox Vitamin C facial Wash with Superfruit Plum £7
Soap & Glory Bright Here Bright Now Instant Radiance Energy Balm £11
Soap & Glory Breakfast Scrub £9.50
VO5 Plump It Up Weightless Mousse £3.89
VO5 Give Me Texture Dry Texturising Spray £3.49
Rimmel Lycra Pro Nail Polish in Pink Of Me £4.59
Carmex Lip Balm in Strawberry £2.69
Yesterday I nipped into boots, and of course you never come out with what you initially went in for, so I thought I'd do a Boots Beauty Haul post. This cold miserable weather, along with stress and tiredness is starting to have an effect on my skin, particularly my face. At present, my skin is quite dry which is unusual for me, and my skin has become dehydrated and dull. My eyes are very sore purely from sheer tiredness. I'm not going to beat around the bush, but when it comes to skincare I have always used the mainstream brands such as Nivea and Johnson's and have no shame in saying so. These products I have used for many years and they have always work wonders for me. I've always been fortunate enough to have reasonably good skin, I don't suffer with dry or oily skin, nor do I have irritable skin, and only ever have a spot ever now and then. This kinda says to me that you don't need to fork out a lot of money on expensive named brands because they all do the same job. I of course appreciate everyones skin has different needs, different brands are tailored to different skin requirements, and therefore which ever brand suits your skincare the best is what is most important. After using Soap & Glory products, I decided to introduce some of their skincare products into my daily beauty regime.
So this week I have decided to trial the
Soap & Glory 'Face Soap and Clarity 3-In-1 Daily-Detox Vitamin C Facial Wash with Superfruit Plum'
. On their website,
Soap & Glory
describe this product as a 'high-tech, gentle non-drying foaming facial wash, formulated with complexion friendly, easy rinse surfactants and special Superfruit Plum skin brightening complex'. I was initially looking for a face scrub to deep cleanse my skin and scrub away any dry patches. The Soap & Glory range was 3 for 2 so I picked up this, a face balm and one of their products I mentioned in my
previous post
 that I've been dying to try, the Breakfast Scrub.
I started using the Face Soap and the Instant Radiance Energy Balm last night and the effects were noticeable this morning. The face soap isn't technically a scrub, but the tiny little pink beads inside do the same sort of task. After wetting your face, simply squeeze a grape size measure into the palm of your hand and apply all over, paying particular attention to break-out areas such as the creases of your nose, your chin, and your forehead. Then, simply wash off and pat dry. What I particularly love about this face wash is that it lathers up so you can see where you have applied it more. It also warms up as you apply it becoming incredibly soothing for your skin. What sold it to me was the skin brightening complex. After two washes my skin feels hydrated and looks healthy, and will definitely be a product I will continue to use.
Afterwards I applied '
Bright Here Bright Now Instant Radiance Energy Balm'
 and yes it does exactly what it says on the tube. On the tube it states 'Beautifully Luminous Skin with moisturising apricot kernel oil, aloe vera and our immediate face firming active Instantight 2. This product is perfect for what my skin needs. Any signs of flagging simply apply this all over, using it like a moisturiser. Don't be afraid it says to apply generous amounts. The cream itself has tiny hints of shimmer which boosts the radiating glow of your skin. No lie, my skin looks and feels 10x better. The cream is also the perfect texture, not too thick, and not too thin, and my skin feels silky smooth. After you've applied it, leave it about 15 minutes before you put your make up on, this way your foundation glides on for a super smooth and even finish.
The final product I chose was the
'Soap & Glory Breakfast Scrub'
 Body Smoother with Oat, Shea Butter and Sugar Body Smoother with Organic Cupuacu Bio Scrubs, Bananas, and Almond and Honey Extracts. I've been dying to try this for ages.
This week I've been meaning to fit in my dairy an appointment at the hairdressers to get my much missed dip dye back, so I thought I best stock up again on a couple of hair products. (I'm yet to book my appointment, but fingers crossed for Friday). If you don't know me then I guess I should let you in on my daily hair. I haven't used my Ghd's for years which says something already. Perhaps I need to invest in some curling tongs. When I was younger I would try and get my hair super sleek and stupidly straight, now I hate my hair straight. I love my hair as soon as I wake up in the morning. I'm your typical bed head, messy, tossled, and all over the place. Obviously I like to keep it looking natural and tamed with a few products, but generally speaking most of time I just leave it.
Sadly I ran out of my Schwarzkopf Got2b 2 Sexy Big Volume Mousse which is perfect for creating plumped up hair with bags of volume, however I had heard such good reviews about the new
VO5
range I decided it was worth a go. The VO5 website is a good starting point if you want to look into some of their products before you buy. I opted for the
VO5 Plump It Up Weightless Mousse with Heat Defence
and the new
Give Me Texture Dry Texturising Spray with Sea Salt
. If you follow me on
instagram
I posted a photo this morning of my big plumped up hair. The texturising spray is incredible and really adds some extra volume to my hair, whilst keeping it looking natural at the same time. I would highly recommend this product. You would have to buy the Weightless Mousse to appreciate what I'm about to say. The nozzle is exactly the same as squirty cream and comes out all whipped like cream. Your either not going to be interested in what I just said, and will probably also think I'm a little bit sad. Lets just say its the little things that amuse me the most.
The final two products I picked up were of course the one and only Carmex Lip Balm in Strawberry and Rimmel Professional Finish in Pink Of Me. I do have a rather unhealthy collection of pink polishes already, however this pastel shade with a subtle glittery finish seemed perfect for Spring/Summer. I love the Rimmel brushes, and the polish consistency and they always have such a vast range of colours. Lastly to mention, I use to use Carmex back in my school days and forgot about it for a while. When I used it again for the first time yesterday, just the smell brought back so many memories. Carmex is a good reputable brand which I know a lot of people use, and since the winter months mean dry, chapped lips, well for me it does, this seemed a must have. It's small, compact, smells amazing, and does the job at keep dry lips looking and feeling soft. Boots currently have a 3 for 2 offer on all Soap & Glory products, 2 for £5 on several of the VO5 products, and also 3 for 2 on all Rimmel products.
Do you use any of the products featured in this post? Have you tried any products from the new VO5 range? 
Coming soon will be a review on the ultimate bronzer.