I was blessed again this year receiving a few books from Santa. This year I was given "Lies Chelsea Handler Told Me" by Chelsea's family and friends and "Is Everyone Hanging Out Without Me? (And Other Concerns)" by Mindy Kaling.
Santa typically brings me a few books every year. I figure he probably thinks one of two things:
1. She really needs to learn how to read.
2. Someone give this girl something productive to do besides dancing around her room all day.
So I have decided to share with you my favorite books written by celebrities.
'How to Make Love Like a Porn Star: A Cautionary Tale' – Jenna Jameson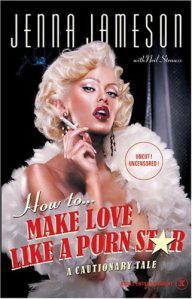 Photo Courtesy: goodreads.com
I'll be honest, I picked up this book solely because of the title. As you should know, Jenna Jameson is a porn queen. Hey, a girl has to pay the bills somehow.
Jenna's real name is Jenna Marie Massoli and that is one of the billions of things she reveals in her autobiography.
Even though I was slightly disappointed that it was a more biographical story then a guidebook, Jenna did us ladies a solid and gave us her ten commandments of dating and sex! My favorite: pineapple does a world of good.
From reading this book, I learned that Jenna has had a tough life and that's putting it lightly. From abusive boyfriends, debilitating drug addictions and crawling her way to the top of the porn industry, Jenna has had quite the ride so far.
One of my favorite parts of the book was her tryst with the one and scary Marilyn Manson. I recall Jenna saying that Manson was a fan of "the C word" and by C word, she meant cuddle. Who would have thunk it?
If you haven't had the pleasure of reading Jenna's book, Oprah comes to the rescue again and provides the first chapter on her website. I'm warning you now, you'll probably have to buy the book immediately after…it's just that good.
I have read my share of biographies and at almost 600 pages, I finished this tale in about 2 weeks. That's a personal best. I also gave this bible, I mean book to anyone that wanted to borrow it, even strangers. See, Jenna brings people together and not just in a creepy porn way.
Jenna – Thank you for sharing your story. If you ever need a friend to go to a pole dancing class…I can be ready in 6.7 minutes.