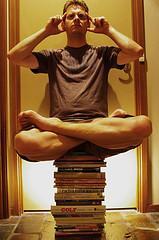 Photo by Tourist on Earth
As a former college English teacher, I'm using my skill as a voracious reader to learn more about active aging. Here is a list with reviews. Do you have a recommendation for me? Note that it may take some time for your recs to move from the comments section into The Full List below since
I am only including titles that I have actually read. (Last update Dec 5, 2012)
Also, note that I'm starting to write reviews of related books, grouped by theme. Here is the first subset:
Strong, Smart Women Wrestling with Caregiving
 (5 books)
The Full List
Ackerman, Diane (2001).
One Hundred Names for Love: A Stroke, a Marriage and the Language of Healing
.
 Review
Albom, Mitch (1997).
Tuesdays with Morrie
.  
Review
Altman, Nancy J. (2005).
The Battle for Social Security: From FDR's Vision to Bush's Gamble
. Review
Beerman, Susan (2002). 
Eldercare 911.
 Review
Burda, Angela N. (2010).
Communication and Swallowing Changes in Healthy Adults
.  Review
Butler, Robert N. (1998).
Aging and Mental Health: Positive Psychosocial And Biomedical Approaches
. 5th Edition Review
Carter, Jimmy. 
The Virtues of Aging. 
(1998). Review
Clark, Robert L. et al. (2004)
The Economics of Aging.
Review
Dass, Ram (2000).
Still Here: Embracing Aging, Changing, and Dying.
Review
Didion, Joan (2007).
The Year of Magical Thinking.
Review
Freedman, Marc (2007).
Encore: Finding Work that Matters in the Second Half of Life
.   Review
Genova, Lisa (2007).
Still Alice.
Review
Groopman, Jerome (2007).
How Doctors Think
. Review
Gross, Jane. (20011).
A Bittersweet Season: Caring for Our Aging Parents--and Ourselves
. Review
Hopkins, Christopher (2008).
Staging Your Comeback: A Complete Beauty Revival for Women Over 45
.   Review
Hudson, Robert B., Editor (2010).
The New Politics of Old Age Policy
. 2nd Edition. Review
Jacobs, A.J. (2012).
Drop Dead Healthy: One Man's Humble Quest for Bodily Perfection. 
Review
Kastenbaum, Robert J. (1997).
Death, Society, and Human Experience
. 10th Edition. Review
Koenig, Harold G. (2002).
Purpose and Power in Retirement
. Review
Kreamer, Anne (2007).
Going Gray: What I Learned about Beauty, Sex, Work, Motherhood
. Review
LePlante, Alice (2011).
 Turn of Mind.
Review
Levine, Suzanne Braun (2009).
Fifty Is the New Fifty: Ten Life Lessons for Women in Second Adulthood
. Review
Lewis, C.S. (1961).
A Grief Observed.
Review
Mukherjee, Siddhartha (2010). 
Emperor of All Maladies: A Biography of Cancer.
Review
Nuland, Sherwin B. (1995). 
How We Die: Reflections on Life's Final Chapter
. Review
Nuland. Sherwin B. (1998).
How We Live.
Review
Olson, Laura Katz (2001).
Age Through Ethnic Lenses: Caring for the Elderly in a Multicultural Society.
Review 
Peck, Scott M. (2010). 
Denial of the Soul: Spiritual and Medical Perspectives on Euthanasia and Mortality
. Review
Plotkin, Bill (2007).
Nature and the Human Soul: Cultivating Wholeness and Community in a Fragmented World.
Review
Quadagno, Jill (2010). 
Aging and the Life Course: An Introduction to Social Gerontology.
Review
Qualls, Sara H. & Steven H. Zarit, Editors (2009).
Aging Families and Caregiving.
Review
Quindlen, Anna. (2012).
 Lots of Candles, Plenty of Cake. 
 Review
Reed, Donna M. (2009).
Insiders Guide to Better Nursing Home Care: 75 Tips You Should Know.
Review
Rentsch, Gail (2008).
Smart Women Don't Retire--They Break Free; From Working Full Time to Living Full Time.
Review
Rollin, Betty (1998).
The Last Wish
. Review
Rosofsky, Ira. (2009). 
Nasty, Brutish and Long: Adventures in Old Age and the World of Eldercare
. Review
Russo, Francine. (2010).
They're Your Parents Too!: How Siblings Can Survive Their Parents Aging Without Driving Each Other Crazy
. Review
Saxon, Sue, Mary Etten & Dr. Elizabeth A. Perkins (2009).
Physical Change and Aging: A Guide for the Helping Professions.
5th Edition. Review
Sheehy, Gail (2010).
Passages in Caregiving: Turning Chaos into Confidence.
Review
Shin, Kyung-Sook (2011).
Please Look After Mom.
Review
Snowdon, David (2001).
Aging with Grace: What the Nun Study Teaches Us about Leading Longer, Healthier and More Meaningful Lives.
Review
Span, Paula (2009).
When The Time Comes: Families with Aging Parents Share Their Struggles and Solutions
. Review
Taylor, Jill Bolte. (2006)
My Stroke of Insight: A Brain Scientist's Personal Journey.
Review
Tolstoy, Leo (1886).
The Death of Ivan Ilych
. Review
Thomas, William H. (2004).
What Are Old People For?: How Elders Will Save the World.
Review
Sundrom, Eric, Randy Burnham, & Michael Burnham (2007).
My Next Phase: The Personality-Based Guide to Your Best Retirement
.  Review
Tindell, Charles (2003).
The Enduring Human Spirit: Thought Provoking Stories on Caring for Our Elders.
Review
Tyler, Anne. (2012).
The Beginner's Goodbye.
Review
Vesperi, Maria D.  (1986).
City of Green Benches: Growing Old in a New Downtown
. Review
Related:
Films Featuring Older Adults
Strong, Smart Women Wrestling with Caregiving
(5 books on the topic)