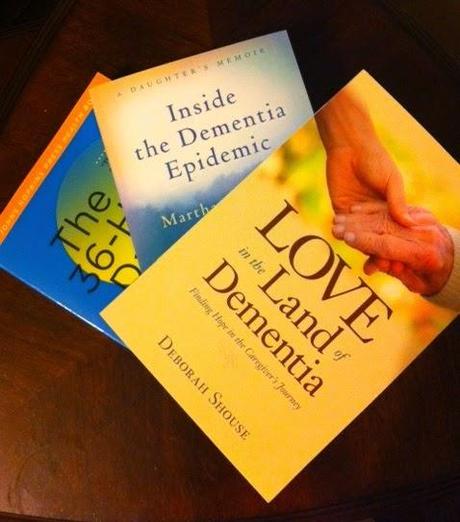 Books by Mace/Rabins, Stettinius, & Shouse.
Even though my approach to aging is pretty broad, I have a persistent interest in cognition.  
Not only do I read about healthy, normal, age-related changes to the brain, I also read about change caused by disease. 
I am particularly interested in how dementia changes a person's cognition and how caregivers respond. 
I have read more than a dozen books (novels, reference books, memoirs, etc.), and I hope to read many more. 
Here are some quick reviews of some of these books with links to longer reviews. I plan on updating this page as I read more. 
Dosa, David (2010). Making the Rounds with Oscar. The author describes residents of a skilled nursing center who are moving into late-stage dementia and how their loved ones are responding to the challenges.  Goodreads Review.

Genova, Lisa (2009). Still Alice. The author, a Harvard-trained neuroscientist, writes a novel about a woman adjusting to her diagnosis and symptoms of early onset dementia and her family members who also must adapt. Goodreads Review.

Kessler, Lauren (2007). Dancing with Rose: Finding Life in the Land of Alzheimer's. The author shares stories of working in a skilled nursing facility with residents who have dementia.  Goodreads Review and Blog Review.

LaPlante, Alice (2011). Turn of Mind. The author was caregiver to her mother before writing a murder mystery where the narrator and the suspect has dementia.  Goodreads Review

Mace, Nancy L. and Peter V. Rabins (2006). The 36-Hour Day: A Family Guide to Caring for People with Alzheimer's Disease, Other Dementias, and Memory Loss in Later Life.  I own this, but I have not reviewed it. It's a reference book, and I haven't read it cover-to-cover yet. But it's widely accepted as a very helpful resource.

Miller, Sue (2004). The Story of My Father. The author primarily focuses on her father's life story and their relationship over the decades, but there are some details about having to adjust to cognition changes and the resulting changes to their relationship. Goodreads Review and Blog Review.

Nuland, Sherwin (1995). How We Die: Reflections on Life's Final Chapter.  The author describes a half dozen of the most common diseases that claim people's lives,  including Alzheimer's Disease.  Goodreads Review and Blog Review.

Rosofsky, Ira. (2009). Nasty, Brutish and Long: Adventures in Old Age and the World of Eldercare. The author is a psychologist serving residents living in assisted living facilities and skilled nursing facilities.  While at times a big pessimistic, the author's ideals for reform reveal his underlying compassion and empathy.  Goodreads Review.

Shouse, Deborah (2013). Love in the Land of Dementia: Finding Hope in the Caregiver's Journey. The author provides one of the best demonstrations on how to adjust your own thinking and behavior in response to a loved one's dementia. Goodreads Review and Blog Review.

Snowdon, David (2002). Aging with Grace: What the Nun Study Teaches Us about Living Longer, Healthier, and More Meaningful Lives. The author provides an accessible narrative behind the research he has done on the lifestyle choices that mitigate the clinical presentation of Alzheimer's Disease. Goodreads Review.

Stettinius, Martha (2012). Inside the Dementia Epidemic: A Daughter's Memoir.  The authorh provides the most detailed account of a person's progression through early and mid-stage dementia. (The book was published before her mother moved into late-stage dementia and then passed away.)  Goodreads Review and Blog Review.

Witchel, Alex (2012). All Gone: A Memoir of My Mother's Dementia, with Refreshments.  This food critic describes her life-long relationship with her mom, framed by her mother's dementia and punctuated with family recipes.  Goodreads Review and Blog Review
Related:
Movies Depicting Alzheimer's Disease.
Books on Aging Cognitive Changes: The Usual Suspects