Last year I participated in AubrieAnne's Bookmark Break Challenge. She challenged everyone to get their dusty old books off the shelves and finish them! She said that if we read more books than she did in 2011, she would give us prizes! Well, I read more books than she did! In 2011, I read 66 books. Here is what I got for my efforts!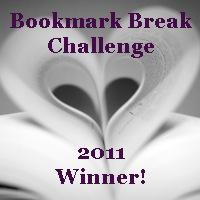 I also got free ad space on her blog for one year! This year, I plan on taking part in her challenge again.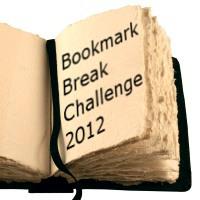 My personal goal is to read at least 52 books this year, or one a week. I also think I already mentioned this, but I would like to try to read at least one book a month that I already have laying around. I am going to try not to buy any books this year (except for the ones I buy with my B&N or Amazon gift cards!) This means I will be downloading a lot of free classics from Amazon as well as reading a lot of free reviewer books from
Dorrance
and
LibraryThing
. I also plan on reading a lot of library books. At least that's the goal!
Last year I not only took part in AubrieAnne's challenge, but I also joined an online book club at
The Many Thoughts of a Reader
. We are currently reading
State of Wonder
by Anne Patchett. One of my other book goals for 2011 was to read more classics. I did read A Christmas Carol as well as several of the Anne of Green Gables series, but I need to get more on the ball this year for that.
You can find out more about what I am reading, reviewing, planning on reading and hoping to read on my BOOKSHELF page. Also, if you haven't already, come see what I am reading on
Goodreads
!
What are your book related goals for this year? Are you involved in any book clubs?