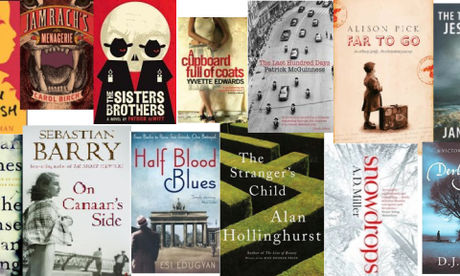 Some of the longlisted books. Photocredit: TheLiteraryStew.Blogspot.com
The Man Booker Prize shortlist was announced yesterday. The list includes four British authors, (Julian Barnes, Carol Birch, Stephen Kelman and A D Miller) and two first time novelists. The judging committee was chaired by Dame Stella Rimington, the erstwhile director of MI5, and included politician Chris Mullin, Daily Telegraph Head of Books Gaby Wood, novelist Susan Hill and journalist Matthew D'Ancona. The winner trousers £50,000 and is guaranteed rocket-fuelled sales boosts (see Howard Jacobson's Finkler Question and Hilary Mantel's Wolf Hall.)
The judges have caused controversy by claiming that they were prizing readability over any other quality. Stella Rimington said ""We want people to buy these books and read them, not buy them and admire them," on The Guardian, whilst The New Yorker's Book Bench quoted Chris Mullin: "Other people said to me when they heard I was in the judging panel, 'I hope you pick something readable this year.' That was such a big factor, it had to zip along."
Longlisted authors Sebastian Barry (previously shortlisted twice) and Alan Hollinghurst (a  winner seven years ago for The Line of Beauty) did not make the final cut. Current favourite is Julian Barnes for his novella The Sense of an Ending, which is at 13/8 on Ladbrokes. First timer A D Miller's Snowdrops is set in a plutocratic, amoral Moscow, and his fellow debuter Stephen Kelman's Pigeon English tells the story of a young Ghanaian immigrant. There are also four books from independent publishers: Canongate, Serpent's Tail, Atlantic and Granta. The shortlist is below.
Ho for Hollinghurst! Harry Mount, on his Daily Telegraph blog, was completely at a loss at Alan Hollinghurst's omission. Was it because he's won before? Surely not – J G Farrell carted off the prize twice, as did Peter Carey. Opportunities to put him on the list are rare – and leaving him off now is like "omitting Evelyn Waugh in the 1930s or Kingsley Amis in the 1960s" (though of course the Booker wasn't around then.) The other books will have to be "exceptionally accomplished to knock Hollinghurst out of the reckoning."
BUBAR? (Bookered up beyond all recognition.) Boyd Tonkin in The Independentwas equally scornful. The French have a prize, the Priz Décembre, which is designed to correct literary awards earlier in the year. We Brits are in urgent need of such a gong. A prize dedicated to pure brilliance in fiction, without the whiff of celebrity judges, would not constantly seek novelties and want to "cut a dash and make a splash". This year is a decidedly "mixed bag." Many will be wondering what the point is. The Booker Prize needs to get its act together.
Should we care? Why should Alan Hollinghurst be on the list? asked Elizabeth Minkel on The New Yorker's Book Bench blog. He won it seven years ago, after all. Nicholas Blincoe, on Twitter, said that reading Hollinghurst was like "sitting the Civil Service exam." The story's really about the British literary establishment, said Minkel, with the "ancient" Julian Barnes pitted against a selection of novelists with an average age of 44. The judges wanted books that would be read. This is kind of "depressing". But why should we care about literary prizes anyway? Take a look at The Guardian's Not the Booker Prize – it's much more fun.
The Shortlist
Julian Barnes 
The Sense of an Ending
 (Jonathan Cape – Random House)
Carol Birch Jamrach's Menagerie (Canongate Books)
Patrick deWitt The Sisters Brothers (Granta)
Esi Edugyan Half Blood Blues (Serpent's Tail)
Stephen Kelman Pigeon English (Bloomsbury)
A.D. Miller Snowdrops (Atlantic)
More on books

Steve Jobs book
Five best plot twists
Major coup for Amazon
Wizard! It's Pottermore!