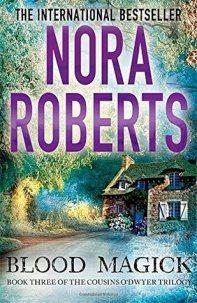 Blood Magick by Nora RobertsAuthor Website
Amazon (UK)
Amazon.com
Piatkus Books (hardback), 2014336 Pages
Branna O'Dwyer has a rich and remarkable life. Her little shop in County Mayo is thriving and her close circle of friends and family have found love and happiness. But Branna's own heart remains closed - to protect herself and the man she loves from a terrible threat.
She reached out once to Finbar Burke - and it almost destroyed them both. Fin and Branna have both inherited a gift for magic, but Fin shares his blood with an old and terrible enemy. And so the two friends have kept their distance, both secretly yearning for the impossible.
That distance has kept them safe - and unhappy. But as a final battle draws close, Branna and Fin are brought irresistibly together. And while they succumb to the heat between them, there can be no promises for tomorrow.

ON A BRIGHT DAY AS SUMMER FADED, BRANNAUGH gathered herbs, flowers, foliage, all for salves and potions and teas. They came to her, neighbours, travellers, for their hopes and healings. They came to her, the Dark Witch, as once they'd come to her mother, with aches in body, in heart, in spirit, and paid with coin or service or trade.
This is my third time reading Nora Roberts. Blood Magick is the final book in the Cousins O'Dwyer trilogy.I've also read the other books in the trilogy, and and Shadow Spell.
I really enjoyed Blood Magick. It was a great way to end a great trilogy - good triumphs over evil and all that jazz. All of the threads and storylines come together and there is the much-hoped for dramatic conclusion. The evil spawned hundreds of years ago is vanquished and everyone lives happy every after. Blood Magick has its twee moments but the storytelling is so damn good this never really bothered me. There is more romance as Finn and Branna get all doe-eyed. This isn't unexpected considering the rest of the circle have partnered off, so really, they had to get together, plus this has been hinted at from early on in the first book, Dark Witch. Once again, the romance never got syrupy enough to make me throw up so there's that to be thankful for. Nora Roberts knows how to spin a good yarn.
I'd recommend Blood Magick for fans of love, romance and all things magic.