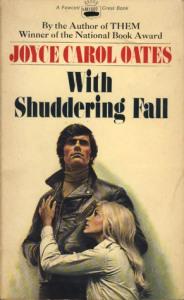 With Shuddering Fall by Joyce Carol Oates
Fawcett World Library (Paperback), 1964
224 Pages 
BLURB FROM THE COVER
Once again, award-winning novelist Joyce Carol Oates demonstrates her dazzling ability to capture the violence sensuality and cruelty of men and women caught unaware by passions they can neither accept nor deny.
This story of love obsessed, of innocence enslaved, of the dark world of sexual chaos, testifies to 'a rich and burgeoning talent…
EXTRACT 
One morning in early spring, a man and his daughter made their way along the country lane that led back from their house.
REVIEW
This is my first time reading With Shuddering Fall. I'm working my way through JCO's back catalog. There's a lot I haven't read.
I enjoyed With Shuddering Fall. It was well-written and polished for a debut novel by someone as young as JCO was at the time. With Shuddering Fall includes brief little glimpses into the great writer JCO would become one day. As debut novels go, With Shuddering Fall does have its weaknesses. The novel goes a bit mad at times. The behavior and actions of the characters is unbelievable and downright bizarre at times. I found Karen and Shaz's relationship disturbing at points. Karen is still in school so there's a hint that she is likely underage. At times it appears Shaz is quite violent towards her. Shaz's mentor Max gave me the creeps. With Shuddering Fall does a good job of capturing the intensity of first love. The ending is over the top. With Shuddering Fall is an enjoyable if a little off the chart debut.
RATING