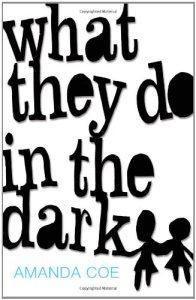 GENERAL INFORMATION
TITLE: WHAT THEY DO IN THE DARK
AUTHOR: AMANDA COE
PAGES: 256
PUBLISHER: VIRAGO BOOKS
YEAR: 2012
GENRE: CRIME FICTION
COVER TYPE: PAPER BACK
www.amazon.co.uk/What-They-Dark-Amanda-Coe/dp/1844087077
http://unitedagents.co.uk/amanda-coe
What They Do in the Dark is a library book.
BLURB FROM THE COVER 
Spoiled but emotionally neglected Gemma, who seems to have everything, and semi-feral Pauline, who has less than nothing, are two very different ten-year-old girls growing up in a tough Yorkshire town in the 1970s. Pauline longs for the simple luxuries of Gemma's life: her neatly folded socks and her clean hair. Gemma, upset by her parent's breakup, loses herself in fantasies of meeting the child television star Lallie. When Lallie shoots a movie in their hometown, Gemma and Pauline grab the chance for their wildest dreams to come true. But the film becomes a terrible catalyst for the larger forces acting on the two girls, a dysfunctional adult world that trickles down to the children; and playground bullying escalates, with dreadful consequences… 
EXTRACT 
IT'S NOT EXAGGERATING to say that Lallie Paluza's show is the highlight of my week. Watching her is the perfect end to my perfect Saturdays, which begin with me going swimming with my best friend, Christina. After two hours of splashing and diving but not much actual swimming, we get dressed, shivering and exhausted. Then, hair dripping into the neck of our clothes, we each buy a hot chocolate from the machine at the baths. It's impossible to get warm, so drinking the so-called hot chocolate, with its sweet, powdery bottom layer and topping of tepid purple foam, is the best we can do. We're starving by the time we leave the baths and each buy a bag of chips with bits from the chip shop down the road, eating them as we walk.
HIGHLIGHTS
I love the title of the novel, What They Do in the Dark. This is reason I picked it up in the library in the first place. I also really like the cover. It's sort of awful but I like it.
I like the way Coe deals with the obsessive nature of friendship in What They Do in the Dark. Gemma come from a well to do family and is struggling with life since she realised her parents have separated and her Mum's new friend Ian is really her boyfriend. Pauline comes from a poor family. She is beaten and neglected by her awful mother. On the surface they appear unlikely friends. I found their friendship believable. I felt Gemma was rebelling in a way to her mother's decision to leave her father for another man. Her mother disapproves of Pauline. Pauline is treated like shit by everyone in her life and Gemma is nice to her so of course she becomes friends with her.
I liked the way What They Do in the Dark is structured. Coe offers three perspectives. Some chapters are told from Gemma and Pauline's point of view. Other chapters focus on the film being made locally starring both girls favourite child star, Lallie. I like having the viewpoint of both girls.
What They Do in the Dark has some shocking moments. These mainly involve Pauline. Pauline is beaten and berated by her awful mother. She earns 'pocket money' by wanking off men in the local red light district. My heart really went out to her. She was a brilliantly drawn character. Her pain and sadness was very real.
What They Do in the Dark reminded me very strongly of the movie Heavenly Creatures (www.imdb.com/title/tt011000). The film also deals with an obsessive friendship between two girls that ends in tragedy. I enjoyed the book more because it reminded me of the film.
LOWLIGHTS 
I felt the chapters that focused on Lallie and the film being made in the area were pointless. The only connection to the main narrative was the fact both girls are Lallie fans and audition to be an extra. I found these sections focusing on the movie being made along with script extracts very tedious.
I felt disappointed by the ending of What They Do in the Dark. The girls bully and murder a classmate, Gemma's best friend until Pauline came onto the scene. This scene is quite gory. Gemma's cold detachment was very unsettling. I don't oppose violence what I do oppose is that this came out of nowhere. It was like an unpleasant punch in the face. I expected the girls to kill someone but not the girl they did. I was left staring at the book, scratching my head and muttering WTF. I couldn't help feeling Coe wrote this ending for shock value or because she didn't knew where else to take the story.
Coe offer an interesting subplot that never really goes anywhere. There are hints of sexual abuse. Ian, the boyfriend of Gemma's mum Ian touches her in an intimate place and calls her sexy. Coe reveals he is one of the men Pauline has wanked off.  I thought he would rape Gemma or try and rape her and they would kill him in revenge. His murder would have made more sense.
FINAL THOUGHTS
I enjoyed What They Do in the Dark. I felt it was a powerful novel that dealt with thought-provoking subject matter. Coe makes a decent attempt at dealing with shocking and almost taboo subjects. There were a few things that didn't quite work and weakened the whole novel.
RATING