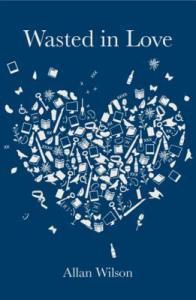 Wasted In Love by Allan WilsonPublisher Website
Glasgow West End Website (Author Page)
Amazon (UK)
Amazon.com
Cargo Publishing (ebook), 2012162 pages
WHAT IT'S ABOUT
Shortlisted for the Scottish Mortgages Trust Scottish Book of the Year 2012. Nominated for the A nobii First Book Award. Set against a backdrop of menial employment, escape into alcohol and an unflinching belief that life has the potential to offer so much more, Wasted in Love explores the tragedy and humour that exists in the everyday lives we lead. Whether they are starting out in life or having a cold moment of realisation, Allan Wilson's poignant vignettes are powerful, unflinching in their honesty and full of dark humour. We see the real world of love; couples fight, break-up, make-up and fall in and out of love. Lies, suspicion and betrayal haunt them. But when they come together in love, can they escape and rise above their problems? Wasted in Love explodes onto the page with vivid, heartbreaking stories and stunning prose. This much anticipated and praised collection is a brave exploration of the human condition from one of the UK s most exciting writers.
OPENING PARAGRAPH
I'm sitting with Jack having a few beers when he eventually gets round to asking. He says, 'Tony will you... will you be my best man?' He says it like a proposal (A CELEBRATION)
WHAT I THOUGHT
I've never read this author before. I stumbled across Wasted in Love while browsing my library's digital collection looking for some short stories.
Wasted in Love is a great little collection of stories. I really like Wilson's story-telling skills. The stories are all quite short but contain so much. The stories all explore relationships of some sort, between families, between lovers and between friends, but each relationship is slightly off-kilter. There are hints of darkness simmering just beneath the surface. Some stories were so good they took my breath away, particularly Peaches, Dangers Far Worse Lost Than Run, We Are More Than This, After The Party and A Couple. Peaches is an amazing story. I still can't get it out of my head even though I read it days ago.
Wasted in Love is a cracking collection of stories.