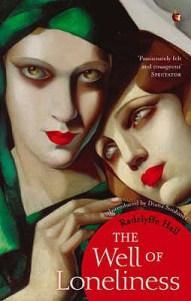 THE WELL OF LONELINESS BY RADCLYFFE HALL
VIRAGO PRESS (PAPERBACK), 2008, FIRST PUBLISHED IN 1928
496 PAGES
Radclyffe Hall Wikipedia Entry
The Well Of Loneliness Wikipedia Entry
This book is part of my Popsugar Reading Challenge 2015. The category for this book is 'a classic romance'. I could also have used this for a banned book but I didn't know it had been banned until I got it out of the library.
I choose this book because it deals with two women in love which is my territory. I also didn't want to read a more common classic romance like Emma or something that I would probably hate and would make me want to puke with its OTT lovey-doviness.
BLURB FROM THE COVER
Stephen Gordon, named by a father desperate for a son, is not like other girls: she hunts, she fences, she reads books, wears trousers and longs to cut her hair. As she grows up amidst the stifling grandeur of Morton Hall, the locals begin to draw away from her, aware of some indefinable thing that sets her apart. Stephen experiences her first taste of real happiness when she meets Mary, but can their love survive in a world of prejudice?
EXTRACT
Not very far from Upton-on-Severn – between it, in fact, and the Malvern Hills – stands the country seat of the Gordons of Bramley; well-timbered, well-cottaged, well-fenced and well-watered, having in this latter respect, a stream that forks in exactly the right position to seed two large lakes in the grounds.
REVIEW
This was my first time reading Radclyffe Hall.
I thought The Well of Loneliness was great. I get why it's such an important book. To some extent I felt like Radclyffe Hall was reflecting aspects of my own life. Some of the things Stephen experiences are very common for most lesbians growing up, coming out and coping with their first relationships. I really felt for Stephen as I was reading The Well of Loneliness. I thought her childhood crush on Collins was adorable and familiar. My heart ached for her when her mother banishes her from the family home, disgusted and ashamed when Stephen confesses her true nature. I really like Sir Phillip, Stephen's father. He understand what Stephen was and completely accepted it even though this isn't stated in black and white. The Well of Loneliness is a great book.
RATING