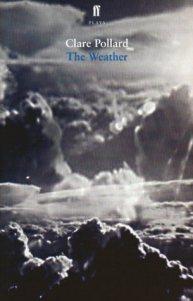 THE WEATHER BY CLARE POLLARD
FABER AND FABER (PAPERBACK), 2004
62 PAGES 
HTTPS://CLAREPOLLARD.WORDPRESS.COM  
THIS BOOK IS PART OF MY POPSUGAR READING CHALLENGE 2015 (HTTP://WWW.POPSUGAR.COM/LOVE/READING-CHALLENGE-2015-36071458). THE CATEGORY FOR THIS BOOK IS 'A PLAY'. 
I CHOSE TO READ THIS BECAUSE CLARE POLLARD IS MY FAVOURITE POET AND AN IDOL SINCE SHE IS ONLY A COUPLE OF YEARS OLDER THAN ME. I KNEW SHE'D WRITTEN A PLAY AS WELL SO HAD TO CHOOSE IT FOR THE CATEGORY.
BLURB FROM THE COVER
While cocktail swigging Gail concerns herself with shopping and her husband buries his head in the sand, their teenaged daughter, Ellie, predicts the end of the world. The weather is alarmingly erratic and there's an enraged poltergeist in the kitchen.
The Weather premiered at the Royal Court Theatre, London in October 2004.
EXTRACT 
SCENE ONE
A kitchen. Ellie sits at the table. There is a large window at the back wall, through which we can see a dark, stormy sky. Wind and rain can be heard lashing the house throughout. 
Ellie It's over.
Pause
I mean. Have you seen the weather out there? Have you seen the fucking weather?
Pause
REVIEW
Clare Pollard is one of my favorite poets. I own all of her collections and have read them several times. She's also a bit of an idol as she's only a few years older than me. This is my first time reading The Weather.
I really enjoyed The Weather. This was the first time I'd read a play for leisure and not because it was part of the set curriculum for school. I thought the characters were great, wonderfully messed up and dysfunctional. The mother was my favorite. She drank all the time and went on and on about the good old days when she was an award-winning poet and wasn't depressed and didn't need to max out the credit cards to make herself feel better. I loved the conflict between mother and daughter. It was realistic. I felt sorry for the father, caught between a rock and a hard place because of his wife's depression and the bailiffs knocking at the door. The poltergeist added some light relief. The impending apocalypse also added some dark humor. I'd like to have seen The Weather performed live.
RATING